It is a fact that old racing cars and likewise race boats once uncompetitive are consigned to the bin! But whereas there has been a massive industry built up around historic racecars in the past 20 years, historic race boats are an entirely different breed especially in theUK. We are in danger of losing many significant craft without which the sport we not be what it is today worldwide. Of the winning craft from the first decade of the Cowes-Torquay we have 3 fully useable craft of which only one remains here in the UK, plus 1 museum exhibit. Two have been lost to watery graves, one is a rotten hulk, one needs another major restoration, one has gone to Italy for restoration and the last had vanished. That winner was Surfrider. So it is refreshing to find that maybe another significant craft has possibly survived albeit in the USA but lets go back to the beginning of this particular story… 
It was on August Bank Holiday 1964 that a battle royal was played out in the Cowes-Torquay Powerboat Race between Dick Bertram and the Brothers Gardner both driving race prepped Bertram 31 hulls. Bertram had motored up through the French Canal system with his family on board after competing in Italy and Europe to take part in the race. The Gardner's had upgraded their previous Bertram 25 "Scorpion" to the new 31 footer "Surfrider" which had the same engines as Bertram's boat.
LUCKY MOPPIE
In a flat calm race at speeds averaging near 50 mph for the race Bertram's "Lucky Moppie" and "Surfrider" swopped the lead many times between Cowes and the finish in Torquay with Dick Bertram taking the initial lead after the start. The climax of the race was played out in front of the thousands of spectators gathered at the finish when both boats entered Torbay with literally yards between them. Bertram opened the throttles as far as he could in an effort to shake of Surfrider and it looked like the white Bertram 31 would defeat the pale blue sister boat scoring a first win for the USA in this now legendary race. As he crossed the line it suddenly dawned on him when he heard no gun that he was the wrong side of the buoy… but it was too late and Surfrider swept past the desperately circling Bertram to take the Beaverbrook Trophy. 
SURFRIDER
The following year the Gardner's were back with the now renowned Surfury and little was known of what happened to Surfrider… but now thanks to the marvels of the internet some more information has surfaced. It transpires that she was sold to American racer Bob Nordskog, as per this post on the Bertram 31 website…
"According to the book "Searace" by John Crouse, the 1964 Cowes-Torquay powerboat race on August 15, 1964, was won by the Bertram 31 "Surfrider" powered by twin 400 HP turbo-charged Daytona engines. It was owned/driven by Englishmen Charles and James Gardner who were identified as "friends and customers of Dick Bertram". Dick Bertram finished second in his 31 "Lucky Moppie" (he crossed the finish line first, but passed on the wrong side of the finish boat). Bob Nordskog (publisher of Powerboat Magazine) bought Surfrider and raced it to a 2nd in the '66 Long Beach-San Francisco race and a 3rd in the '67 Catalina Challenge. That's the last reference I could find on Surfrider in Crouse's comprehensive book on the history of offshore powerboat racing"…
But what is even more interesting is the previous post…
This was posted over on the 25bertram site.
Is it a Bert??
Thanks
http://seattle.craigslist.org/see/boa/983208985.html 
Unfortunately the link is long since gone but the first part of the reply was this…
Captbone,
That boat was on Yachtworld 8-10 years ago with about a dozen good photos. Best I could tell it is one of the Bertram 31s that was built by the factory specifically to compete on the ocean racing circuit.
Now bearing in mind these posting were made in 2009 it must be presumed that in 2000/1 Surfury was still around…
But then.
http://seattle.craigslist.org/see/boa/983208985.html
That's funny, this listing has just expired. Wonder if it sold?
This is where the detective work has to begin and it highlights the fact that dotted around the world must be many of the craft that took part in these early races and most, probably looking for a good home! I have tracked down one very grainy picture of her in the 1966 race Long Beach to SF but am hoping the Nordskog family may have a picture of her in her USA spec! I am also hoping that Ian Saunders who owns and restored the 25ft Bertram raceboat "Paper Tiger" may be able, through his American contacts to track her down. It would be good to know if she is still around for as now we all know early race boats with history, are as rare as hens teeth!.
The Story of the 31
The Bertram 31 was a development of "Moppie" a prototype wooden Ray Hunt 30 footer designed for Dick Bertram to race in the Miami Nassau, that led to the 1961 31ft Glass Moppie raced by Sam Griffith and with the famous race no 88. Max Aitken bought Glass Moppie had a cabin fitted by Bruce Campbell's yard and she was raced the following year. Glass Moppie was replaced by the new 31ft "Blue Moppie" also no 88 and raced again by Sam Griffith, her hull currently resides at Universal Marine Hamble awaiting restoration. Blue Moppie finished 2nd to Tramontana in 1962 and was then raced by Kieth Schellenberg in 63/64 using twin Ford Galaxy engines totalling 800hp.


Glass Moppie at Bruce Campbell's yard in 1961 prior to the first race

Glass Moppie with cabin in 1962
The Bertram yard were represented in the 1963 season by Jim Wynn in the 25ft YOYO 2 and many privateers with their 31's but 64 was to be an all out attack on races worldwide.

BLUE MOPPIE
The Bertram yard in Miami built a series of "Ocean Racers" for the 1964 season, all carrying sequential double no's
These were;
LUCKY MOPPIE No 77 Stateside and No 11 for the European circuit
SURFRIDER No 66 winner of the  '64 Cowes Torquay but disqualified in the April running of the Miami Nassau.
Both the above ran Daytona engines totalling 760hp later 800hp.
RUM RUNNER No 99 was raced by Harold Abbott and ran twin Holman Moody Fords totalling a whopping 1042hp, she won the '64 Miami Nassau in 4hrs 54mins beating Lucky Moppie
The last boat was No 88 SWIFTWATER also powered by HM Fords totalling 700hp.
All the hulls were identical as were the forward cuddy cabins but all differed as to steering positions, rear layouts and of course engine spec…it was one of the Bertram Yards most successful seasons especially with wins in the 2 most famous races.

LUCKY MOPPIE 2nd in the Miami Nassau 1964

RUM RUNNER Winner 1964 Miami Nassau 
The Bertram 31 was built like a tank and the hulls are renowned for their sea keeping qualities, they became and still are a sought after make thanks to these race victories and several of the cruisers themselves were raced in the Cowes-Torquay namely,
ULTRA VIOLET, CHASSEUR, DAMIAN 3 and with special cabin THUNDERSTREAK.
Talking of survivors Ultra Violet is now in the Channel Islands, she apparently suffered a large crack in her hull after being damaged when driven onto a breakwater by a storm. Due to the inbuilt strength of the hull apparently the repairs were fairly straightforward and she was, when last heard of being restored in 2010.
As to the whereabouts of Barrie Heath's "Chausseur" and Dennis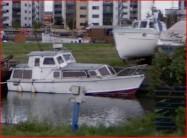 THUNDERSTREAK
Miller's "Damian 3" they could be anywhere and Tommy Sopwith's "Thunderstreak"? in 2011 she was found languishing in Galleons Marina east London with a hideous cabin and wheelhouse atop her magnificent hull seeking a buyer after being seized for non payment of dues.

CHASSEUR

ULTRA VIOLET
If the American historic powerboat enthusiasts are anything to go by "Surfrider" will have been saved but will they be aware of her history and more importantly will she have escaped the addition of a cabin thus losing her identity altogether! It would be good to know the situation. Perhaps someone out there can put us out of our misery! Please…
An interesting footnote is that all Bertram 31 Raceboats in the early years bar 2 carried double numbers ie 11, 33, 44, 77, 88, 99 anyone know why? but the exception is THUNDERSTREAK number 40 or 400 and Chasseur 69
17/4/12
Mike James
Commodore/Historian
COPC
Some photographs courtesy of Graham Stevens