HTS / APACHE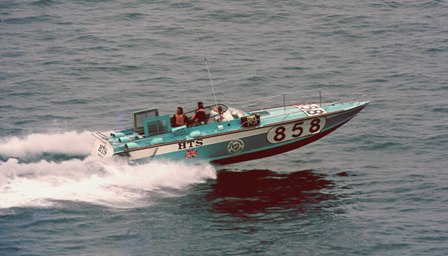 HTS in her original livery – 1969
Hot on the news that Miss Enfield 2 had been sold to an Italian, it was refreshing to hear that another of Don Shead's multi winning designs was staying in GB… After much negotiation it transpired that club member Nick Wilkinson had purchased Apache from David Hagan and will be restored. this is her story…
In 1969 transport and distribution magnate Ralph Hilton commissioned Souter's to build a 33ft Don Shead design for offshore racing to be known as "HTS" and be powered by Leyland diesels. With her dark blue and white livery soon to be changed to her more recognisable pale blue and white she was entered into the first Round Britain Race but the engines proved unreliable for the punishing conditions. One engine broke away and dropped into the bilges then in the later Cowes Torquay race another failed just after the start line.
In 1970 the engines caused more problems and the decision was taken to change the units to Ford based turbocharged Sabres and although less powerful than the Leylands proved ultra reliable and propelled the craft much faster.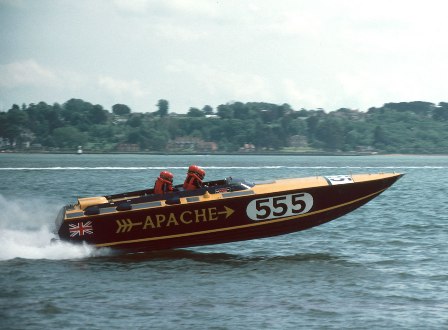 APACHE 1979, but notice no screen!
HTS was entered into the recently announced 1972 London Monte Carlo Marathon and underwent many structural modifications plus upgrading the engines which had their output increased from 250 to 300hp resulting in speeds approaching 55mph.
15 days after the June the 10th start HTS arrived in Monte Carlo and was propelled into the history books by winning 8 of the 14 stages that totalled nearly 2400 miles at an average speed of almost 42mph in the process she also took home 29 trophies and a substantial amount of cash. Unfortunately Ralph Hiltons business failed and HTS with it.
After a successful season in 1972 she changed hands several times and was named I LIKE IT by new owner Charles Gill. Complete with a new engine layout, stern drives instead of shafts and in Charles hands took the class championship in the British series. She was then sold again in 1975 to John Craxford and re engined with the latest Sabre 365's again taking championships aplenty.
APACHE in full flight and moving to her new home – 1979
Up for sale again in 1978 she was purchased by David Hagan, revamped and renamed APACHE she took the 1979 season by storm winning David the British Championships for classes 1 and 2! and then the European Championships, not bad for a 10 year old race veteran.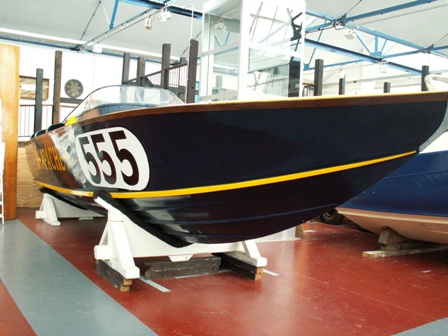 APACHE at Basildon Museum – 2009
Her racing years over she was put in storage then stripped of her machinery was eventually displayed on loan to the Basildon Powerboat Museum. The subsequent dramatic closure of the museum found her back in storage in Hampshire and although not officially up for sale was purchased after secret negotiations by Nick Wilkinson…. now the work begins and one of Nick's headaches is what colour scheme will this veteran and ultra successful craft return in? never mind the mechanical specification.
Follow her rebirth here…