Tales of a Phoenix…
In 1969 Ralph Hilton, boss of a highly successful transport company commissioned from Souter´s in Cowes a Don Shead designed Class 2 offshore powerboat. She was 33ft overall and due to Hilton´s links with Leyland to be powered by 2 x 200hp Turbo Charged Leyland Diesels.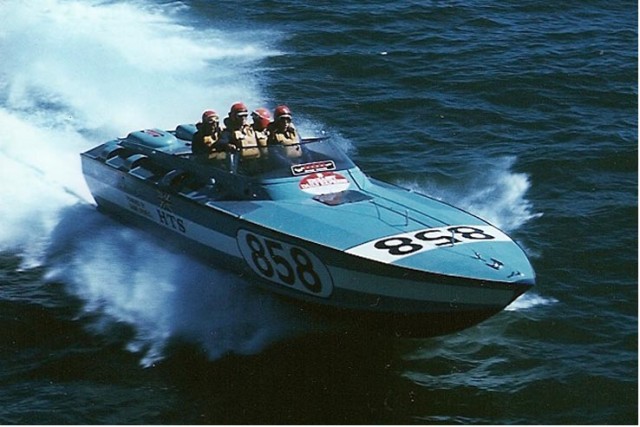 "HTS" (858) – 1972
Her first colour scheme was a dark blue and white livery but this was soon changed to a more distinctive pale blue and white which was to become her trademark racing colours. 858, her designated race no was Hilton´s area code in the east end of London and HTS standing for of course Hilton Transport Services.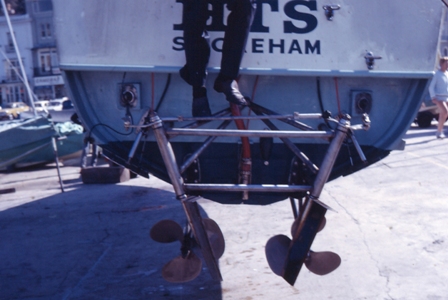 "HTS" original drives
She was built by Souter´s using 3 laminations of 6mm Cedar, one of Mahogany and their now famous cold moulding system, she was also a sister ship to Tommy Sopwith´s T2. Her first outing was in the 1969 Round Britain Powerboat Race where she actually won one of the Scottish stages but during a later leg an engine broke away from it mountings and collapsed into the bilge causing her retirement. The next race for her was the Cowes Torquay Cowes but yet again engine problems caused her to retire not long after the start.
The decision was taken to ditch the Leyland's in favour of Ford based Sabres totalling 500 hp after another poor showing in 1970 season and subsequent retirements. It was a wise move and the 1971 season saw a dramatic turnaround in her fortunes with Class 2 wins in the Torbay International, The Manx Marathon and more importantly 2nd in class and 5th overall in the CTC. But more success was to follow!
The 1972 London Monte Carlo Marathon had been announced the previous year, it was a course that would take entrants 2,400 miles, consist of 14 stages and last some 15 days, the punishing equivalent of a Cowes Torquay Cowes everyday bar rest days! 22 craft of various types had entered, one of which was the now very reliable and successful HTS.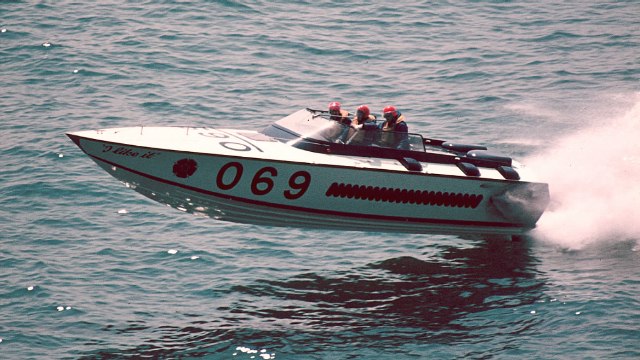 "I LIKE IT" (069) – 1975
When the Race which started in London on the 10th of June finished in Monaco it was HTS with her now reliable Sabres producing near 600hp in the capable hands of Mike Bellamy, Jim Brooker and Eddie Chater that was the overall winner. They had won 8 of the 14 stages, set a time of 71 hrs 35 mins for the trip, at an average speed of 41 mph. They had powered through some of the most treacherous waters of Europe's Atlantic coastline to finish ahead of only 9 other craft some of whom had time penalties for not completing all stages. To cap it all they took home with them a fistfull of cash and a veritable van load of Trophies including the Prince Rainer Gold Cup.

Unfortunately there was a sad ending to what was a highly successful year when Hilton's business failed and HTS along with her smaller sister craft HTS 2 were sold.

The purchaser of both craft was David Blackford who raced Ford Persuader with Jimmy Brooker, Jimmy had been her engineer from day 1 and continued the development and engineering work right through to 1980.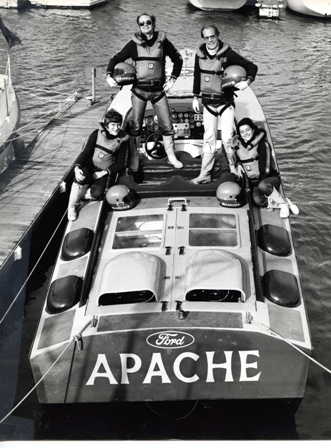 "Apache" (555)
HTS in the hands of Mike Bellamy won Class 2 in the 1973 Cowes Classic. In '74 both boats again changed hands and were purchased by Charles Gill, HTS was renamed I LIKE IT and was re-engined using the stern drives and engines from HTS2…and as such was still a highly successful racer finishing 3rd and first in class in the Cowes Classic.
When Charles Gill moved up to Class1 with his Cigarette I Like It Too, HTS was sold to John Craxford and reverted to her original name and colours. With Tim Mellory-Pratt as crew she finished 6th overall in the Spithead Trophy and won her class, was 5th in the Poole Bay Trophy but retired in the Cowes Torquay.
1977 saw more success with a 3rd overall in the Spithead and again first in class repeating those placing's in the Torbay 100 and 7th in the Cowes Torquay again taking first in class.
HTS, now an eight-year-old boat was still capable of beating many highly fancied and more modern favourites, due to the careful fettling and development work carried out by Jimmy Brooker.
Yet again her future looked rosy as another new owner took the helm, David Hagan but not holding a licence the driving was in the capable hands of David Nott. She appeared with a new number 555, new name APACHE, a new colour scheme an almost Black Navy blue and Orange and totally re engineered with engines new Sabres, now rated at 730hp!
The 1978 season was to prove that she was still a class leading design with top 3 finishes and class wins in the Torbay 100, Brighton Marina race and the Cowes Torquay where she finished 7th overall and 2nd in class
Now a 10 year old design HTS/APACHE was to make her mark firstly in the British Class 2 season then the European and finally World Championships.
Jimmy Brooker was in charge of the mechanical's and continued to wave a magic wand over their reliability and performance to which point her early race speeds of 45 mph was now nearly doubled to 79mph given the right conditions remember that this is a diesel powered boat!.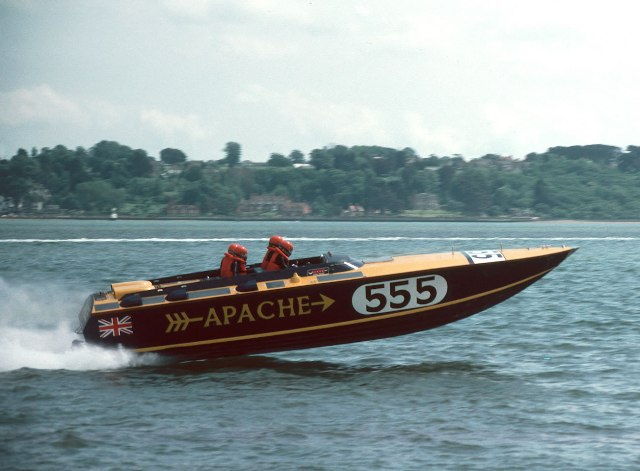 "Apache" (555) – 1979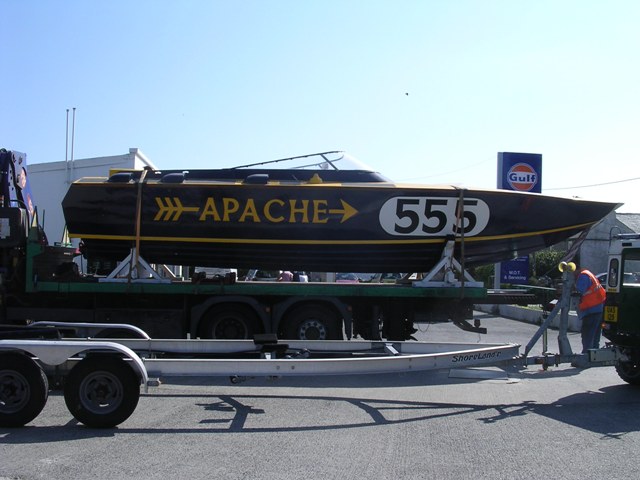 The 1979 season did not start well when the Solent 70 saw an early retirement but by the Poole International was back to top form finishing 3rd OA and first in Class 2, this was rapidly followed by 1st OA and 1st in class at the Southern Speed Trophy. The placing's were repeated at the Poole National, then the non championship RMYC Cancer Race but the winning streak ended abruptly at the Brighton Race.

The Needles Trophy more than made up for the last retirement with a first in class and 3rd OA against some very modern and powerful Italian entries. Although the highlight of the season must be again the CTC where she finished 3rd OA and won the class again head to head against much more modern, powerful craft from Italy and the USA.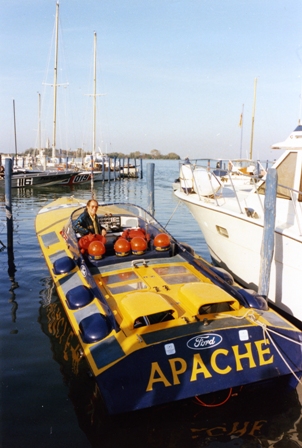 "Apache" (555)
The resultant accumulation of points gave David Hagan and Apache the chance to race at the World Championships in Venice on the 20th of October in such celebrated company as Betty Cook, Billy Martin and Francesco Consentino. Apache and Hagan emerged at the end of racing victorious and were crowned World Class 2 Champions.
The new decade dawned but there was no Apache her racing years were over, now stripped of her machinery and some internals she was loaned to the Basildon Powerboat Museum for display alongside another champion Surfury. It is here we must fast forward to 2010, when rumours surfaced that Basildon Museum was to close, the rumours were true and in a quick time after being made aware of the situation by myself, David Hagan retrieved Apache from the museum and back to storage in Sway. Then towards the end of 2011 came the shock news that Apache had been sold but unlike the other Shead design Miss Enfield 2 which was on its way to Italy, she was staying here!
The new owner and COPC member was Nick Wilkinson, there was more news to follow, it emerged that Nick was going to restore her to her 1972 specification and he has been in contact with Perkins, Sabres and Gulf. Nick has also been aided and abetted by Mike Bellamy who is masterminding her mechanical refurbishment, Mikes company Lancing Marine are supplying the support also the surface drives which will be similar to the original installation spec and design. It was through Mikes assistance with the restoration of Nicks 1973 Phantom 23 originally owned and raced by Bellamy that he heard of Apache, an introduction to David Hagan followed and a few pints a good chat and the deal was done.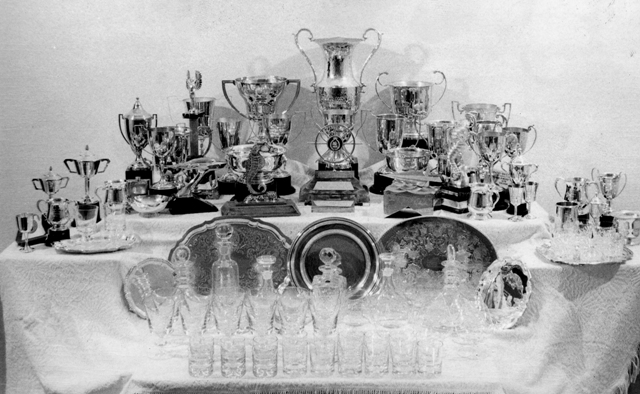 Apache´s Trophies
When the news broke not long after the 2011 Cowes Torquay Race various Boat forums burst into life as to what livery she should carry, engines she should have etc, HTS it seems still had a very large fan club and we all look forward to seeing this 43 year old veteran back on the water again.

But the story it seems does not end there!
Apparently, Nick has plans to race again!

Is this Phoenix about to rise from the ashes!
Only time will tell, after all, that other race veteran Cinzano can still win races, these boats may be of a certain age but winning is in their DNA.
Marathon Racers beware!

Even more interesting is that HTS will be making an appearance for the 2013 Cowes Monte-Carlo Marathon although it is not revealed whether she will be entrant or Mascot!

You can follow Nick's progress and the restoration on Facebook via HTS/Apache, which has photo's and comments.

We wish Nick and Mike every success with this labour of love and look forward to the day HTS hits the water again.

Mike James
Classic Offshore Powerboat Club

January 2012

POST SCRIPT….HTS is now for sale as Nick is persuing the restoration of another Shead designed craft the ex MISS ISLE OF WIGHT…interested parties should contact the owner if interested