Miss Enfield 2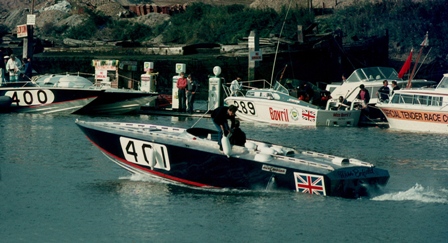 Miss Enfield – 1969
There is no doubting that the lineage of "Miss Enfield 2", Tommy Sopwith's second Cowes Torquay winner can be traced back to Don Shead's first design AVENGER…
After the success of Telstar in the 1968 race Shead was to take what was basically a longer version of the 21 and develop a new hull for Sopwith based on the Avenger 21 and Telstar this was to be T2 which unfortunately proved unsuccessful in his hands although she did reap some rewards as Hot Bovril with David Bassett and was consequently used as a mould for the production versions known as AVENGER 34 which was moulded by Danamos. The 34ft cruiser was also raced, Passing Cloud the gas turbine which then became Red Rum was one such a boat.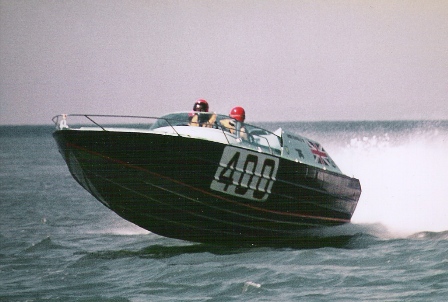 Miss Enfield II – 1970
The slightly smaller Avenger Too which had won the Round Britain Race, also bore lines which bridged both the early Avenger 21, Telstar, T2 and lead to HTS
At the same time of T2's build the experimental Miss Enfield also came of the stocks although unlike the Souter built wooden T2, Miss E came from the newly founded Enfield Marine and was built using Aluminium.
It was from lessons learned with both craft T2 and Miss E that the next design had evolved, built by Enfield Marine Miss Enfield 2 looked the part from day one and was powered by new 650 hp Mercruiser engines although it was her sister boat which was the fancied runner, the even more powerful Avenger 007, which in her own right was the template for Sheads most successful design UNOWOT…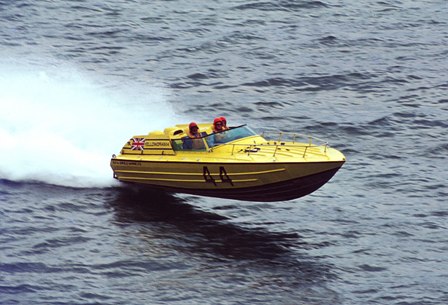 Yellowdrama – 1972
Miss Enfield 2 won the race that year ahead of 007 but it was 007 that Sopwith borrowed to race in the America's to try and wrap up the world championship and was duly scuppered when she caught fire and sank.
After Tommy parted with Miss E2 she reappeared in the hands of Ken Cassir in 1971 then renamed Yellodrama for the 72 race with John Galliford.
In 1973 she reappeared in the striking white and blue colour scheme of John Davey and was now known as BLITZ. She raced under this name for 74, 75 and then 76 when under the ownership of Alf Bontoft. Sadly and in a very spectacular way her race ended when the crew lost control in the Solent of Gurnard Ledge resulting in Alf Bontoft's death when he was thrown from the bucking craft.
| | |
| --- | --- |
| | |
| Blitz – 1973 | Blitz – 1974 |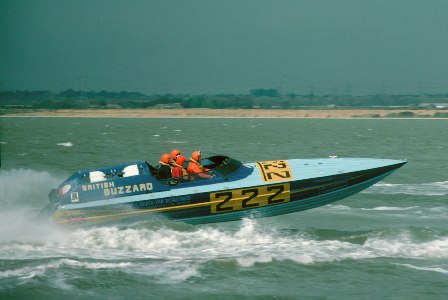 British Buzzard – 1977
With a change of name, owner and engines the hull reappeared in 1977 with Roger Allen at the helm and powered by twin Perkins diesels and again in '78 with Sabres and was known as British Buzzard. Now 10 years old she made one last appearance again with a new owner in 1979, she was known as LPW and was powered by "Outboards" such a sad finale for a successful and famous craft.
Miss Enfield 2 then vanished, as do many offshore racers only to resurface in the garage of Sway resident Don Wood where she had been stored for the past 25 years and was now on the MARKET!… such is the reach of Classic Offshore it appears that an Italian gentleman Guisseppe Soro had spotted her for sale and the deal was finalised early April this year.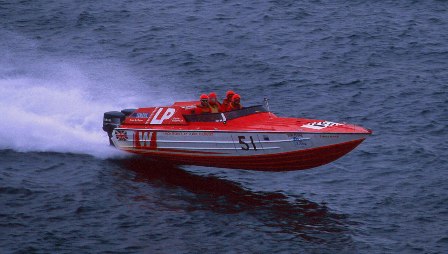 LPW – 1986
Again as in the case of Telstar another famous racer is leaving our shores but Miss Enfield 2 is to be restored and will be raced again in Italy and here. We look forward to seeing her return and will keep all posted to developments.
Mike
21/04/2011