Aluminium Raceboats
You would be forgiven in thinking that when Enfield Marine started producing the now well document Don Shead designed aluminium race winners of the early 70's onward that this use of the metal was a new direction in powerboating racing's search for strong lightweight materials.
You would very wrong for as far back as the 1962 race the use of this building material was used for racing. The first boat was Cheetah 1, she was 32 ft and was powered by 2 3.8 ltr marinised Jaguar engines, partly designed by Jaguar engineers, owned by John Coombes of Jaguar fame and built in Aluminium by A.E.Freezer of Hayling Island.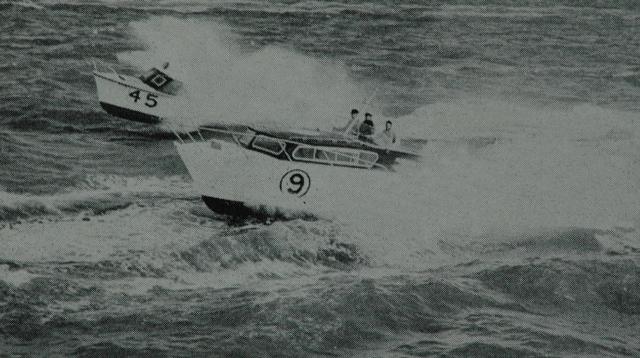 Ernie Freezer was a major player in building aluminium craft many specifically for the navy which were finished by Fairey Marine. His yard also built many renowned cruiser/racers probably the best known being Willick for the Cundy family. Anyway lets go back to the beginning..
Cheetah in her first year won the All British prize in the 1962 Cowes Torquay race in the hands of John and Ernie when she finished 9th overall with ace navigater Geoff Fanner who had been Tommy Sopwith's crew in 1961.
The following year 1963 saw 2 new boats from Freezers yard IMPETUS a 25ft turtle deck hull powered by 2 Rolls Royce V8 petrol's totalling 480hp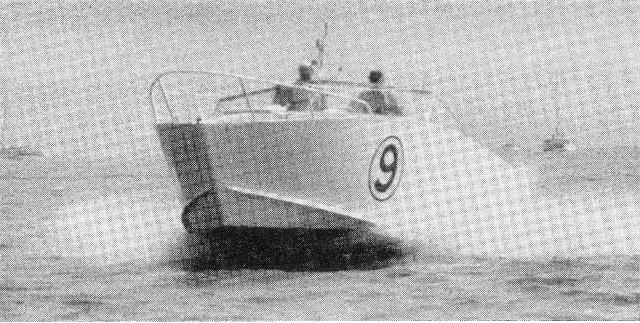 Impetus 1963
and Just Dandy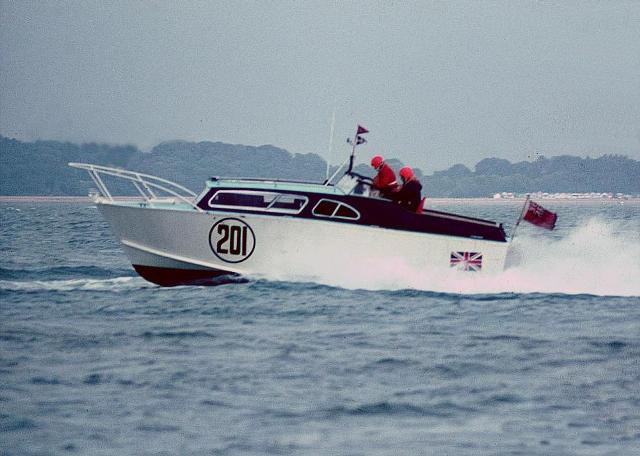 Which was a 25ft hull powered by twin Perkins diesels and raced by Andy Bolton. Ernie brought Impetus home in 15th position with Just Dandy arriving at Torquay in 26th place.
Cheetah 1 was also entered but as far as we can ascertain did not take part.
1964 again saw Impetus, new entrants Willick and Finandandy participating in the CT, no Just Dandy and Cheetah though entered again failed to start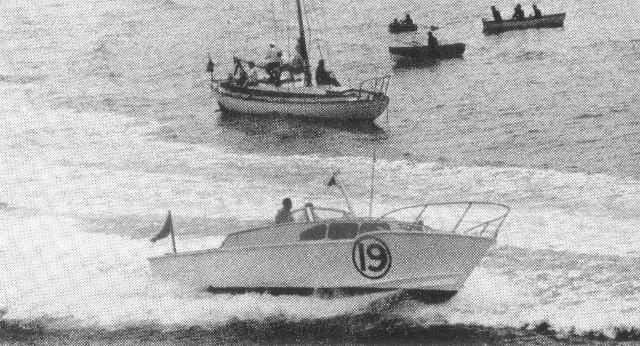 Finandandy was a 28ft hull powered by twin Perkins totalling 290hp. Impetus was now owned by G. C. Terry, who also owned and raced the diesel powered Huntsman Sea Plough but was driven by Ernie.
Impetus finished 14th, Finandandy 22nd and Willick 38th
Willick designed by Fairmile was 39ft oa (overall length) and powered by two Perkins diesels totalling 290 hp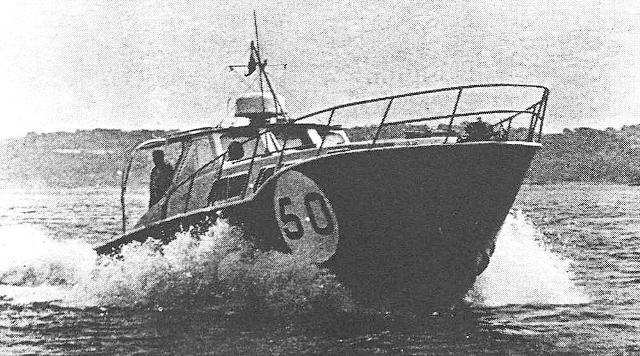 Willick – 1964
For the 1965 season 2 new boats appeared from the Freezer yard a new boat for Ernie, powered by a single 220hp Mercruiser , "Nebulous" and "Blue Rain" for Marinda Cundy daughter of Willick's owner powered by 2 Perkins totalling 200hp. Unfortunately neither finished and again it was left to Andy Bolton in Finandandy to bring home the honours in 13th overall.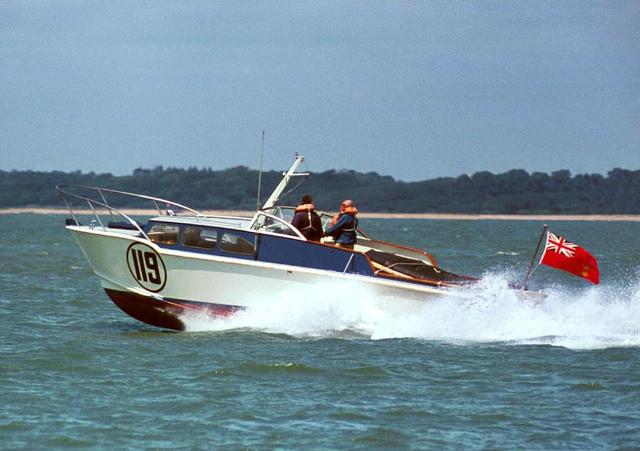 FINANDANDY
All Freezer craft were strongly built and capable of surviving all that the Cowes Torquay could throw at them but offshore design was moving rapidly on and cruisers were losing out to specialist designs, never the less the rough race of 1966 saw Finandandy entered, only to retire.
By '67 and the big rule shake up with the boats being segregated into OP1 OP2 and Class 1 & 2, the heavy Freezer boats with their low but reliable horsepower were not now really capable of racing against the likes of the modern boats, ie Surfury and the new American Aronow Magnums etc.
Not one to be beaten in 1968 the smaller Just Dandy reappeared in the hands of Ernie but she again retired.
For 1969 the Cundy family had a new boat built Willick 2. She was 54ft overall and powered by 2 Rolls Royce engines totalling 640hp, entered for the '69 Round Britain race she finished as tail end charlie in 24th position.
Willick is often to be seen in the Cowes Yacht Haven, Finandandy is apparently in Jersey but in poor condition, as to the other boats who knows but they must survive somewhere. Quality built in riveted aluminium Freezer craft were strong craft and one of our club members owns one of the 23 ft Turtle decks which he is restoring, she is supposed to have race history and it is possible she is either Blue Rain or Nebulous.
Whilst the Enfield craft took off on their victory paths hotly persued by the CUV's and the Alldays, Ernie and John Teale built Smuggler a 27ft Dynaplane powered again by Perkins diesels. The first of her type built for racing she entered the C-T-C in 1970 and 71 but such was the complicated technology of the dynaplane she failed in each race but well done to Ernie for trying new technology…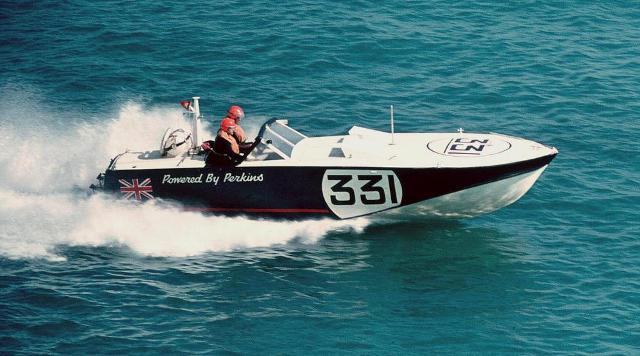 Smuggler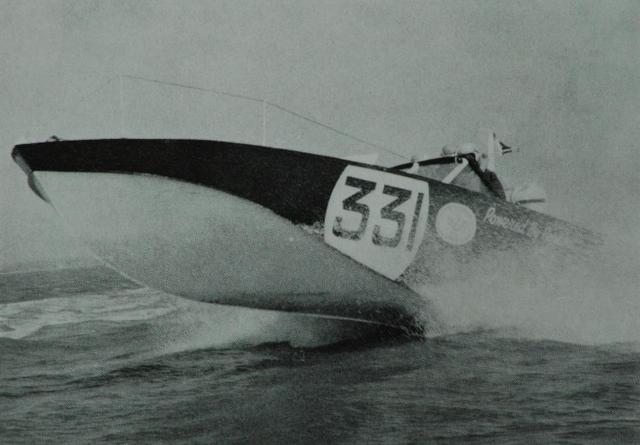 maybe if larger more modern engines had been used his craft would have been more successful who knows and the last seen of Smuggler was many years ago in the boat scrap yard on the Itchen which itself has now gone. It also seems that not long after Freezers also ceased to exist along with many of the other pioneers of the 60's.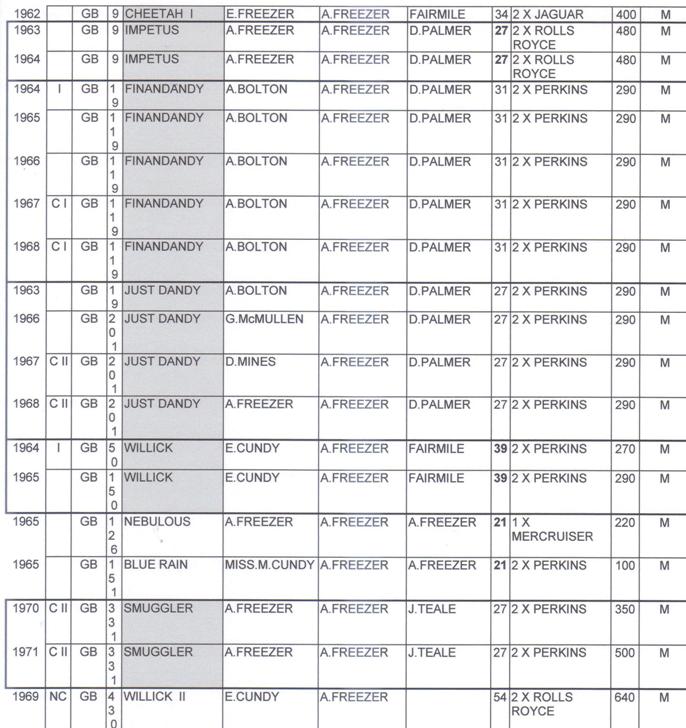 listing courtesy of Graham Stephens
Mike James
August 2011