Sir Max Aitken
Founding Father of the Cowes-Torquay and the Boat Show, Enthusiastic Racer, Yachtsman, Newspaper Baron and WW2 Flying Ace.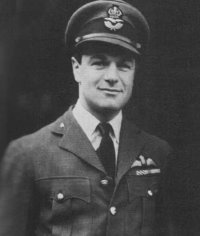 John William Maxwell Aitken was born in Montreal on the 15th of February 1910 son of Lord Beaverbrook the Canadian born press baron. Sir Max was educated at Westminster School London, Pembroke College Cambridge then joined the Royal Auxiliary Air Force. During WW2 he served as a pilot on a Bristol Blenheim then Hawker Hurricane becoming a CO in 1940. He then served in the Middle East becoming Wing Leader of the Banff Strike Wing where he reached the rank of Group Captain achieving 14 and one shared aircraft shot down. At the end of the war he joined the family newspaper business becoming a director of the Express Group and eventually Chairman of Beaverbrook Newspapers Ltd.

Sir Max witnessed one of the early Miami Nassau powerboat races, then participated in the following year with his wife Lady Violet, it was the experience of this new "sport" that led to his announcement at the 1961 Earls Court Boat Show of a similar ocean race to be staged in the south of England in August that year.
Together with John Coote they formulated the rules that saw the birth of the Cowes-Torquay, to improve the breed of sea going fast cruisers and safety at sea. The first race attracted an initial entry of 40 boats, which was whittled down to 27 actual starters through various stages and by the gang of scrutineers who were to become an integral part of pre race preparations. Sir Max did not participate in that race but purchased for the following year one of the entries GLASS MOPPIE, which was owned and built by Dick Bertram but driven veteran racer Sam Griffith. Glass Moppie was subsequently fitted with a cabin, by Bruce Campbell's yard, in keeping with the rules and was kept in the yellow and white colours that became a trademark for many of the boats raced by Sir Max. He raced Glass Moppie in 1962 and was placed 5th. The following year the bug had well and truly bitten and his new boat was an Uffa Fox designed 40ft stepped hull built by Pochins and powered by Rolls Royce diesels called Black Maria she finished 10th, also racing was Glass Moppie which unfortunately retired and Lady Violet had her own Bertram 31 Ultra Violet in which she finished 5th, beating hubby! 1964 saw VIVACITY arrive, a 38 ft Bertram, again diesel powered and in the distinctive yellow and white colours, in which Sir Max finished 7th, Lady Violet was 15th in Ultra V and little Hum Drum built to Ray Hunts designs by the Clare Lallow yard as a tender to Drumbeat (his yacht)
was 22nd in the hands of Hilary Laing.

Vivacity (left) racing with Lucinda.
Courtesy Graham Stevens.


"The Prospect."
1965 again saw Vivacity finishing, in 11th place and  Lady V in the ex Jim Wynn Bertram YO YO 2 finished 22nd. 1966 the rough race that saw Jim Wynn alone in Ghost Rider, his co driver slumped in the cockpit with broken ankles, favoured the big Vivacity again although finishing well down in 16th and Lady Violet's Ultra Violet a new Halamtic hull with Rolls Royce diesels retiring. In 1966 Sir Max commissioned a new boat from Sonny Levi, based on his design of Surfury and to built on the same plug by Souters. Powered by Cummings diesels she was to be called MERRY GO ROUND, it was with this boat on the measured mile in Southampton Water, he smashed the world diesel speed record and then had the boat made ready for shipping to Florida for the Miami Nassau Race. It was not to be a lucky boat for Sir Max as whilst being unloaded she slipped from the slings and smashed onto the dockside, with too much damaged to be repaired in time for the race Merry Go Round was shipped back to England and sold to Albert Figgins and Don Shead, was repaired, re-engined and renamed THUNDERFISH 3
Max meanwhile commissioned a boat from Ray Hunt to be built again by Souters, the new boat of 40ft, GYPSY GIRL, powered by the same Cummings diesels was to become one of his most successful race boats and the '67 race included VIVACITY in the hands of Ian Lallow, Lady Vi in ULTRA V and GYPSY with the old Merry Go Round now THUNDERFISH III. It was an eventful race that saw the final demise of Merry go Round alias Thunderfish, her new engine installation (twin Daytona's 1000hp) that powered her to a win in the Wills Trophy were pushing her along near the front of the fleet when a shaft sheared and punctured a fuel tank, poor Albert Figgins watched her go up in flames of Southsea and later had the only piece washed ashore, the bow section, turned into a drinks cabinet.

GYPSY GIRL Photo courtesy Graham Stevens.
Ultra Violet again retired, Vivacity finished 31st and Gypsy Girl finished 3rd in class and 8th overall. In 1968 it was Lady V who was running a Levi, the catamaran FAT CAT, although she chose to enter ULTRA in the Cowes Race only to retire again but Max in Gypsy Girl stormed to the top finishing 2nd in class and 5th overall then 1969 saw Gypsy come home 5th in class and 8th overall and once more Lady Vi as a member of Ford team in the Huntsman SEASPRAY beat Max finishing 7th.

Glass Mopie
In the new decade Gypsy Girl again did Max proud finishing 9th in class and 12th overall in 1970 and 4th in class and 7th overall in 71. 1972 saw one of the very few retirements by Sir Max Gypsy was now an old boat by racing standards but she had done him proud, Lady Violet upheld the families honour finishing 14th in Ford Express, a special Senior Hull powered by Ford Sabre's.

In 1973 at the age of 63 Sir Max hung up his helmet, he had put in place one of the most enduring powerboat races in the history of the sport and had raced in practically every one, the Cowes-Torquay became the race everyone wanted to win no matter what nationality and you were not considered a full World Champion in the sport unless you had done so!
In the next few years Sir Max succumbed to poor health but was always at Cowes for the Racing in his home "The Prospect" entertaining the "Competitors" in his "Race".
1985 the 25th anniversary of the Race was overshadowed by the death in April of its founder and mentor and although run in various forms until the Millenium was never the race it used to be, maybe the heart of the Cowes Torquay died along with its founder, the one and only Sir MAX AITKEN.
POST SCRIPT There was one boat owned by Sir Max, Drone was her name, of which very little history is known. If anyone can fill in the missing links on this craft please let me know and we will update the story of Sir Max accordingly. THANK YOU, Mike