Tramontana II
Tramontana 2 was entered again in 1964 minus her wheelhouse using instead a sweeping cockpit coaming and ran under the number 40 with Tommy Sopwith at the helm.
Tramontana was a favourite with the spectators and raced on for several more years in the hands of Tim Powell, the following extremely interesting article was written by Rod Green and gives an insight into how powerboats survive all that the sea and circumstance can throw at them.
OVER TO ROD,
My involvement with Tramontana II, started in 1964 when I was employed as Works Manager at a Jaguar Main Dealership in Chichester, West Sussex. I was approached by Tim Powell and Peter Ricketts, wanting to know if I would be interested in helping them restore the boat to race condition, in particular the Jaguar engines.
I had previously known Tim when I worked for Coombs of Guildford a renowned Jaguar Dealer where I was involved in Jaguar repairs and modifications and prepared Jaguar 2.4, 3.8 litre saloons and lightweight 'E' Types to race, driven by Graham Hill and Roy Salvadori.
Tim, Peter and myself went to inspect the boat, which was moored at Vospers Yard at Portsmouth. It looked in a very sorry state and possibly as though there had been some kind of fire in the engine compartment. They agreed that it could be restored so Tim and Peter purchased it. She was towed back to Birdham Shipyard as she was a non-runner at the time. Once back there she was floated onto a cradle and pulled into a large shed.
The four engines and all ancillary equipment, drives, clutches, heat exchangers were removed. The engines were transported to Chichester Automobiles where they were completely stripped to the last nut and bolt. The engines were rebuilt to race specification, crankshafts and con-rods polished and cylinders rebored. Other modifications were carried out as required during the rebuild. The engines were then transported to Vospers Yard at Porchester where they were each in turn put on a Dynamometer to run and tune and also set up each of the three double choke Weber Carburettors on each engine. Each engine produced approximately 250 HP, which gave us approximately 1000HP from the four engines.
The boat was completely repainted interior and exterior. The engines, drives, clutches were all re-installed, heat exchangers, electrics, propellers, instruments overhauled and refitted, throttle linkage adjusted (this was quite complex with 12 carburettors).
The boat was then refloated and first start up was carried out, the noise was ear shattering from 4 open exhausts about 3" in diameter. By this time it was well into the middle of 1965 and our first race was the Cowes Torquay in September. From this time on many hours of testing were carried out in The Solent, trying spark plug combinations (24 plugs) slipping the boat to try different props. It all came together and we were ready for our first race.
The day dawned bright and sunny but windy which was good as Tramontana II was a good rough weather boat. The first part of the race went well without any real problems until we reached Lyme Bay where it became very rough. About half way across the Bay one of the heat exchangers on the port side broke loose and punched a hole through the topside, we managed to lash this with a rope, which I held for the rest of the race to prevent further damage. We completed the race and were 4th overall out of 55 starters and won the All British prize in a time of 5 hours 20 mins at an average speed of 37mph for the 172 miles.
During 1966 we competed in many races with a great deal of success, but this was marred by what might have been a tragic accident. During the Cowes Torquay race that year we had an exhaust pipe break, which we did not know about above the general roar of the boat. I was at the helm and we were heading into Lyme Bay, the situation only came to light when I passed out due to carbon monoxide gases leaking into the cockpit and two other crew members on the verge of collapse as they sat in the cabin. Peter Ricketts managed to drag everyone clear then strapping them to the engine covers to recover as he took sole control of the boat.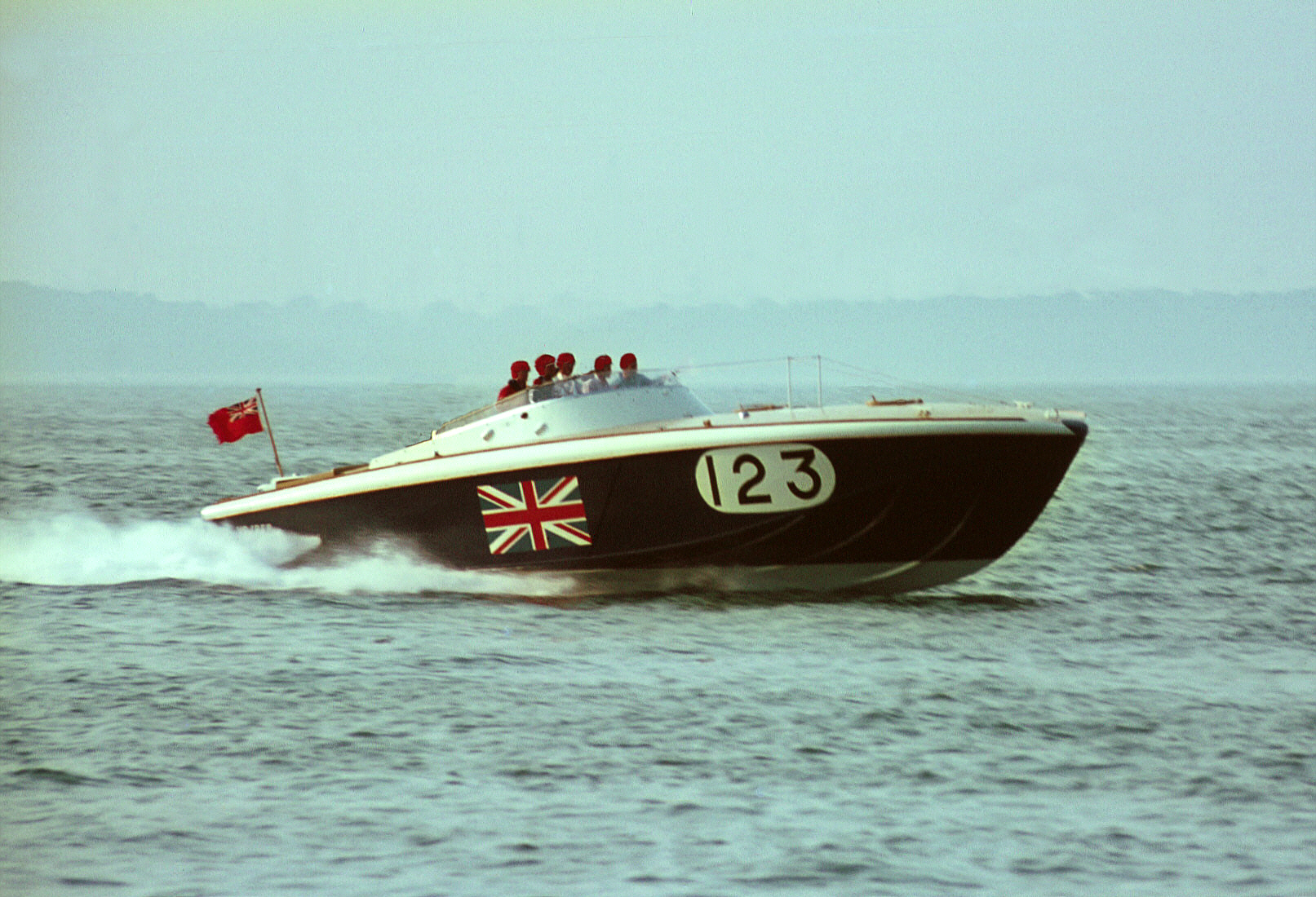 Tramontana II – 1967
1967 again was a round of races, testing and maintenance as we were preparing to take the boat to the Bahamas 500 Race. We were testing in The Solent at the time we were just off Langstone Harbour, unfortunately we did not spot a wreck buoy and ploughed straight into the wreck doing mortal damage to the boat by ripping out the transom. The boat sank within about 10 minutes and we ended up in the life raft. Luckily we were picked up by a fisherman and taken back to Langstone Harbour.
The boat was recovered and taken back to Birdham Shipyard where another complete strip down and rebuild was carried out. We had the boat ready for the 1967 Cowes Torquay and again it was fairly calm all the way which did not suit Tramontana. However we finished in 11th place out of 57 starters and won the All British prize again in a time of 4 hours 54 mins at an average speed of 35.14mph. In all a very eventful 4 years.
Today Tramontana 2, is now owned by Wolter Groenewold in Germany, where she is currently undergoing another full restoration. If I hopefully have got my facts right when Tim Powell ceased racing her the original Wheelhouse/ cabin was restored to the hull. She was shortened to 36ft overall after the sinking and fitted with Mercruiser Inboard / Outboards. Once in new ownership she was also trial fitted with a Gazelle gas turbine, which proved too powerful for her, then with 3 outboards and is now to be fitted with 2 high power diesels during her restoration. Unfortunately contact with her owner is erratic but if and when information does filter through be sure that you will see it here first.
Many thanks to Rod for this fascinating insight.
Mike James
22/07/09