Lorne Campbell – Class 3 Offshore Racing designs
Lorne Campbell ommission was apprenticed to Vosper Ltd, specialists in fast patrol boats and other military craft, in 1965 and attended Newcastle University and Portsmouth Polytechnic. Campbell was interested in fast powerboats even before his teens and his design hero was Commander Peter DuCane of Vosper; the pre-eminent UK designer of that period. The other power craft designers of the time that he rated highly were Sonny Levi, Ray Hunt, Jim Wynne and Bob Hobbs.
(See our designers section).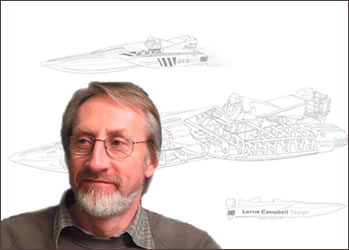 After spending time in the Hovercraft design office at Vosper Campbell moved to Fairey Marine (leisure, military and commercial power craft) and then Rotork Marine (commercial and military power craft). In 1977 he helped to set up Capoco Design, a contract design company covering the Marine and Automotive worlds, with Alan Ponsford and, in 1981, started Lorne Campbell Design to concentrate solely on marine power craft. It is the period from the early 1980's to the 1990's that this article will concentrate on, Campbell's Class 3 multi hull designs.
After having had some degree of success designing a couple of wooden multihulls for The Countess of Arran in the 1970's Campbell took his first commission to design a hull for Class 3C, a series using 2 litre Mercury / Mariner Outboards.
After having had some degree of success designing a couple of wooden multihulls for The Countess of Arran in the 1970's Campbell took his first commission to design a hull for Class 3C, a series using 2 litre Mercury / Mariner Outboards.
The boat was a 21′ wooden catamaran built by Gordon Wright and commissioned by the popular Class 3 racers Jo and Peter Marenghi in the winter of 1982. At this same time however, Campbell had been putting his trimaran design ideas into practice with an American project named Triton.
As soon as the Marenghi's saw pictures of the Triton hull, they then shelved the nearly built 21′ cat and instructed a 3C trimaran!
Gordon Wright was the builder of this 21′ boat, Langan's Brasserie, it made its Class 3 debut in June of 1983 at the Peter Stuyvesant Great Yarmouth Trophy. Or, rather it didn't, it flipped over in the mustering area!
The boat had a mainly poor first year after that, mainly due to the fact as well as running a revolutionary new hull shape, the Marenghi's were also experimenting with a new outboard – a Yamaha 140. The 4 cylinder Japanese engine could not compete with the dominate V6 Mercury / Mariner power which was owning the class.
| | |
| --- | --- |
| | |
| Langan's Brasserie 1984 – with Mercury power. | Poco Homes 1985 – Already a class champion courtesy Graham Stevens. |
Come the winter of 1983, the Class 3C racer Steve Bourne was advised by Class 3 legend Peter Bloomfield to swap his Phantom 21′ hull for the shelved Marenghi catamaran sitting unpainted, un rigged in Gordon Wright's shop in Windsor, and this is where the Campbell Class 3 success story starts in the 1980's!
Poco Homes would win the 1984 and 1985 National Class 3C Championships, rough or smooth it was a winner, with engineering from Chris Lewis, it rarely missed a beat, but a lighter version of Poco Homes, Miss Fitz, driven by Alan Gory debuted in 1985 and in the flat was unstoppable! Class 3C racers were taking notice! Gory was running a rotational navigator – and they were making big mistakes, but he was still catching up with the front runners and even winning races!
Come late 1985 Gordon Wright' s order books were full for new 3C hulls, (four in total), Birmingham boat builder Ron Wolbold was commissioned to build a 3C and 3D hull and a Class 3B Campbell design was being built in Guernsey for Peter Wilson.
The 3C boats by Gordon Wright in the winter of 1985/6 were a progression of Poco Homes and Miss Fitz, but all four boats had their own design differences, Neil Holmes' hull Power Prime looking the more "radical".
Mark Unwin would take Too Paralytic to Norway and win the Class 3C World Championship, the first British driver to have done it! On the domestic scene the Campbell cats won races, but Steve Bourne was to hold the Class 3C National championship for a third time swapping Poco Homes for a Cougar hull.
These Class 3C Campbell cats would continue to be successful race boats in the class for many years to come, under new owners, many trophies were gained, and incredibly all four boats are still around at the time of writing, 20 something years later!

Vladivar built in 1988 by Gordon Wright driven by
Alistair Mcnulty – courtesy Graham Stevens.


Built By Gordon Wright, winter 1982 for Jo and Peter Marenghi. The Marenghi's never raced the cat! It was purchased by Steve Bourne in early 1984 and won two 3C National Championships!

 

Fina 1988 – Built by Gordon Wright – 3D World Champion – courtesy Graham Stevens.

Fina 1989 – Built by Midas Marine – 3D World Champion – courtesy Graham Stevens.
In 1988 we were to see the first of Lorne Campbell's Class 3D designs built by Gordon Wright. Howard Wretham had already had a Campbell design built by Ron Wolbold in 1986, and campaigned it well.

Neil Holmes had raced Power Prime in 1986 and 1987, with some success, in a very competitive class. Holmes who owned a Mercury Marine center, South Godstone Sports Boats, had served his apprenticeship with Ray Stapley. He had engine knowledge, race savvy and moreover had learned catamaran design ideas from Stapley's 1970's hulls.

With sponsorship from Fina and a central heating company Power Prime, Holmes commissioned Campbell to design him a Class 3D hull, the boat again being built by Gordon Wright, but this time Holmes had asked for his own idea on deck design to be used. He a likened it to the shape of a Coca Cola bottle, feeling that it would reduce the impact of side winds on the cat. You can see the difference above between Fina and the other 3D hull, Vladivar produced by Campbell / Wright in the winter of 1987.

Fina romped home to victory in her maiden race at Portsmouth, it was only when the boat was recovered from the water that it was noticed that extensive damage had been suffered, a split right down the hull! It was quickly repaired and Neil Holmes went on to win the 3D National Championship and more importantly his first World Championship, his first of 4 in class 3D using Campbell designed boats!

Carryfast 1992 – Built by Midas Marine 3C World Champion- courtesy Graham Stevens.
In 1992 Tony Jenvey was to win the 3C World Championship held in Swansea. Using the new bread of Campbell designed 3C Hull, 27′ in length he would fight off a fierce challenge from the quick Aluminium mono hulls produced by Forgecraft.
Built in the winter of 1985 in the Channel Island of Guernsey by Aggie Hewlett. This was the first 3B catamaran to be designed by Lorne Campbell. Driven by Peter Wilson it was successful in the Guernsey series of races.
Built By Ron Wolbold of Blu Fin, winter 1985 for Howard Wretham. This boat would go on to win the 1986 3D European Championship. The boat is still running and has been recently seen for sale on ebay.
SGL -Jet built by Midas Marine in 1987 for Les Salvidge, radical in every way possible! The author last saw this boat as a four seater "pleasure boat" running 65 mph off Brighton in 2005!
Lorne Campbell 3B cat, built in 1991 by Shakespeare.
Built By Gordon Wright, winter 1985 for Neil Holmes. The first of many Lorne Campbell designs Holmes would race. This boat recently (2007) sold on ebay for good money – 22 years later!
The second of the Lorne Campbell designs built by Midas Marine. Fina Unleaded first raced in 3D, driven by Neil Holmes in 1989. It would win National, European and World championships in its class.
In a calculated move, Holmes re-engined it for the Class 2 World Championships in September of 1990. Winning Heat One at a blistering pace in the flat, then surviving the rougher remaining two heats, Holmes and Campbell enjoyed their first Class 2 World Championship!
To cap it all, Fina ran an average of 115.13 mph in October 1990, on Lake Windermere to set the Class 2 Offshore speed record..
Built By Gordon Wright, winter 1984 for Alan Gory. This is the first of the lighter 3C cats designed by Lorne Campbell. Seen here in 1988 racing as "Super Flicks".
Built in the winter of 1988 by Gordon Wright, and originally raced as "Cowards Way" this hull found success with its new owner Tony Jenvey racing under the sponsorship of Carryfast.
Just Add Water
Built By Gordon Wright, winter 1985 for Jersey man Mark Unwin, "Too Paralytic" would give Lorne Campbell his first 3C World Championship in 1986. Photo shows the boat in 1988 driven by John Hampton racing as "Mariner Magnum". Tragically his navigator Brass Wilcockson would die the next year in a PUMA hull similar to number 63 in the picture.
Built By Gordon Wright, winter 1982 for Jo and Peter Marenghi. Langan's was the first of the 1980's Campbell 3C hulls.
Built By Gordon Wright, winter 1995 for Jo and Peter Marenghi. Langan's would race onto 1991 under the same owners and sponsor!
Lorne
Campbell Class 3 World Championships

Class 3C

1986,1992

Class 3D


1988,1989,1992,1994
Lorne
Campbell Class 3 European Championships

Class 3C

 

Class 3D

1986,1989
Lorne
Campbell Class 3 National Championships

Class 3C

1984,1985,1987,1992

Class 3D

1988,1989,
Lorne Campbell
UK Class 3 Multihulls 1982 – 1993 courtesy Graham Stevens / Lorne
Campbell / Little Nige

Built

Original Boat Name

Class

Builder

Hull

Length

Photo

1982

Total
Confusion

3B




Aggie Hewlett

Tri

17′
(5.18m)

1982


Langan's Brasserie

3C

Wright

Tri

23.5′
(7.16m)

1983

Poco
Homes

3C

Wright


Catamaran
21′
(6.40m)




1984

Miss
Fitz

3C

Wright


Catamaran
21′
(6.40m)




1985


Express

3D

Blu-Fin


Catamaran
25′
(7.62m)




1985

Shy
Tot 7

3B




Aggie Hewlett


Catamaran
18′
(5.49m)




1985

Too
Paralytic

3C

Wright


Catamaran
21′
(6.40m)




1985

Pride
of De Vere

3C

Wright


Catamaran
21′
(6.40m)

1985

Power
Prime

3C

Wright


Catamaran
21′
(6.40m)

1985


Langan's Brasserie

3C

Wright


Catamaran
21′
(6.40m)

1985

First
raced 1988 Ciao!

3C

Blu-Fin


Catamaran
21′
(6.40m)




1987

FINA
the Right Formula

3D

Wright


Catamaran
25′
(7.62m)




1987


Vladivar

3D

Wright


Catamaran
25′
(7.62m)




1987

SGL-Jet
1

3C

Midas

Tri

22′
(6.71m)




1988

FINA
Unleaded

3D

Midas


Catamaran
26′
(7.92m)



1989


Cowards Way / Carryfast 1

3C

Wright


Catamaran
22′
(6.71m)



1989

SGL-Jet
2

3D

Midas

Tri

26.5′
(8.08m)



1990

Just
Add Water

3D

Malcolm Weeks

Tri

28′
(8.53m)




1991


Carryfast II

3C

Midas


Catamaran
27′
(8.23m)



1992


Shakespeare

3B

Shakespeare


Catamaran
20′
(6.10m)




1993


Turning Point

3C

Wright


Catamaran
27′
(8.23m)




1993

RNR
Motors

3C

Wright


Catamaran
27′
(8.23m)