Make way for the Ladies…

Estelle V
In a sport dominated by men it was not entirely surprising that there should be interlopers of the fair sex, all possibly out to emulate the most famous Lady racer Miss Betty Carstairs.
When the pre war sport of power boat racing was reaching its peak in the 1920's and 30's, the years of Gar Wood, Campbell and Seagrave, who by the way also raced powerful cars. There was a small influx of Lady competitors who also raced cars and some then turned their attention to the powerboat scene also with great success. One of these ladies a certain Miss Betty Carstairs had the audacity to challenge the power boat master American Gar Wood in the 1928 staging in Detroit of the mighty Harmsworth Trophy. Her craft "Estelle II" was a single step hydroplane powered by a 900hp Napier aero engine.
Wood slightly disappointed that his challenger was a woman had the choice of 4 specially built Miss America's, his original rebuilt 1920 boat plus Miss America 6,7 and 8 powered by Liberty engines producing 700 to 1000hp dependant on the craft.
Miss America VII won the contest at a speed of 93 miles and unfortunately Betty capsized Estelle.
But even before Betty Corsairs, Dorithy Levitt drove with and for Selwyn Edge and although his name appears on the Trophy it was Dorothy who piloted "NAPIER" to win the inaugural Harmsworth Trophy at Cork in 1903.
http://en.wikipedia.org/wiki/Dorothy_Levitt
Also in 1905 Camille Du Gast tackled the Mediterranean in a race from France to Morocco.
www.historicracing.com/drivers_female.cfm
Then there was Delphine Dodge heiress to the Motor Empire in the 1920's and Maude Rutherford in the 30's.
When the sport was revived by Red Crise in the late 50's with the Miami Nassau race entrants included the mother and daughter team, Gale and Rene Jacoby, whose mount one year was a Thunderbird Houseboat!
So if we roll forward to 1961 the start of modern day racing in Europe, the first Cowes Torquay international had no female competitors although Pamela Campbell was crew on board Christina. It was 1962 that saw several husband and wife teams participate including Sir Max and Lady Vi Aitken racing Glass Moppie plus Peter and Jane Hicks in Connie 2 (unfortunately Connie sank when her batteries broke loose). Pamela Campbell was certainly the first lady entrant and drove the previous years winner Thunderbolt with Lettice Curtis only to run out of fuel whilst placed 5th.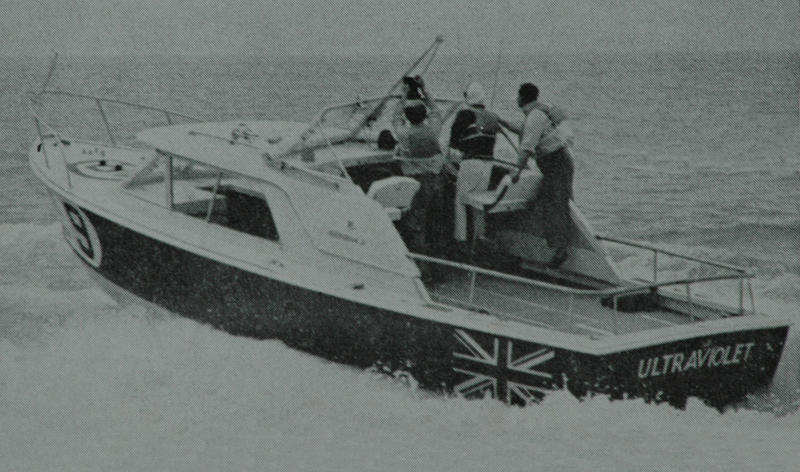 Ultra Violet – 1963
By 1963 Lady Aitken had her own Bertram 31 "Ultra Violet" for the CT in which she came 5th beating Sir Max, Thunderbolt was back again in the hands of Hilary Laing a member of the 1950 victorious Ski Slalom team, finishing 12th.
Charles and Jimmy Gardner started racing in 1963 with "Scorpion" but in 1964 Mrs N Gardner was now the entrant of the 25ft Betram special. Hilary Laing had teamed up with Hilary Twiss wife of air ace Peter, to race the 25ft Hunt designed HUMDRUM. Lady Vi again finished with Ultra Violet.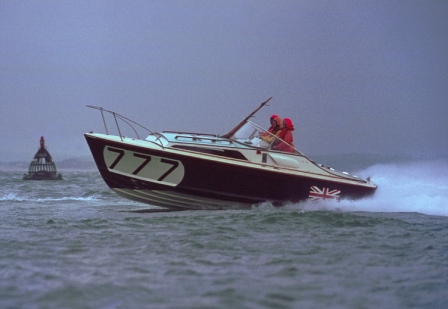 Ultra Violet – 1968
The ladies of the sport were not yet challenging for honours but there were certainly more of them taking up the sport. They included Miranda Cundy in her Ernie Freezer built Willick then Penny Carter made a glamorous impact with her Fairey huntsman "Flower Power" other Huntsman were raced by Mrs J Hawkes and Mrs B Currey.
Then of course there arrived a certain Fiona, Countess of Arran, where do you start with the exploits of such a colourful character? Countess Arran was a regular entrant not only in Class1 and 2 but also set records of which some still stand today and is deserving of her own entry.
Of course the men, in this male dominated sport were winning the world championship but this was to change with the emergence of an American grandmother by the name of Betty Cook. Before racing in her own right Betty had been part of husband Paul's KUDU offshore team but with her own boats went on to win not just one but two world crowns in 1977 and 79 and the American championships twice also.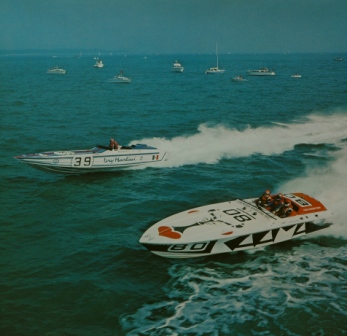 Kaama – 1978
British fans will remember fondly her outstanding win in the 1978 Cowes Torquay Cowes with the Scarab KAAMA smashing in the process the record with an average speed of 77.42mph for the 230 mile round trip. The headlines that weekend read "Granny wins Powerboat race! Sadly Betty passed away after a battle with cancer on 23rd December 1990 aged 67.

http://vault.sportsillustrated.cnn.com/vault/article/magazine/MAG1123658/1/index.htm
The changing face of the sport in the 1980's saw Lady Aitken make a welcome return with daughter Laura competing in the cruiser class. This was where she had made her mark back in the 60's and 70's although it was an Italian that started making headlines in the top echelon of the sport, one Giovanna Repossi.
Wife of Italian racer and Precious Metal Scrap dealer Damiano Spelta, the family were instrumental in bringing to the sport the high powered diesel, their Isotta Franchini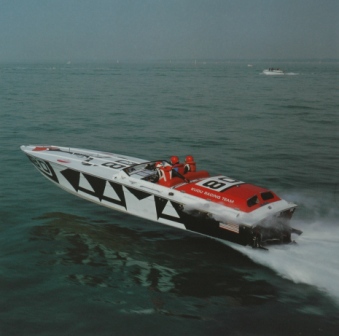 Kaama – 1980
motors, descendants of the CRM's that powered Tramontana in 1962, powered Shead designed class 1 CUV built boats. It was in 1986 that Signora Spelta or as the lady preferred to be known Giovanna Repossi, won the CTC, in Nooxy Fresh and Clean. The race was over 2 parts, first leg winner Len Bylock arrived in Torquay only to start sinking dockside, Giovanna after hunting down replacement batteries left Torquay and all others in her wake as she sped back to Cowes, completing the trip at an average 74.3 mph.
This is a very brief history of the fair sex and their foray into the macho world of Offshore Powerboat Racing. As you have read they left a lasting memory and still in today's sport the ladies are beating the men including one Shelly Jory who is out to put more history on the map, Sarah Donohue who is now a big hit in America and not forgetting the daughter of speed ace Donald Campbell, Gina who is now involved in the rebuilding of the salvaged Bluebird in which her father lost his life.
I am sure there will be more taking up the sport in the future and if I have forgotten to mention any one please forgive me it will be rectified, whoops sorry Jan! (Armstrong that is)
Mike James
14/07/2009