Monaco – "Louly"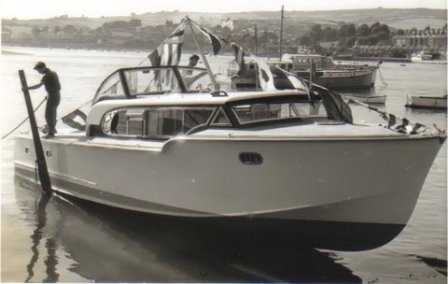 "Louly" first Launched 1959
At the first Classic Rally in Torquay we were honoured to be supported by Derek McClarron the amazing "Louly" she was the biggest entrant and one of the most amazing restorations considering her substantial size, read on for the full story.
Monaco 36 No. 711 "Louly"
Built by Morgan Giles Ltd. Teignmouth 1959
Owner – Derek McClarron
Louly came my way through my father, who was offered the boat from an old friend Max Williams the previous owner. Max had her transported back to Totnes from La Napoule, S. France where he had kept her for some 8 years.
Unfortunately through neglect she was on the verge of dying, both of her engines were seized and the hull was merrily rotting away caused by leaking decks. Max did not know what to do with her, he lived out of the country in the Far East and had been paying for storage for at least a year at Totnes. He felt she needed a caring owner with enthusiasm to bring her back to life, he thought of my father being a keen sailor in years gone by and said "if you want her you can have her!"
When father saw the condition of her, he felt she was too much for him to take on, it was then I had the call.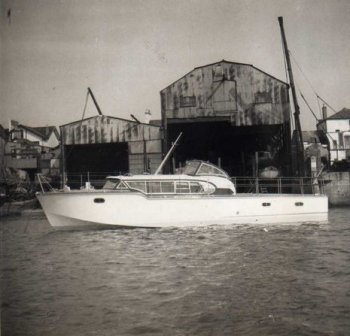 Launched for the first time 1959
I took a look at her at Totnes and she did look sad, floor boards where floating around inside on black oily water, every where you looked there was rot and decay, I spoke to the yard owners for an opinion and they just laughed, scrap her they said.
Never the less there was something about the boat I liked, bearing in mind I knew very little of Morgan Giles and boats generally at the time, except childhood experiences on my dads boats. Anyhow I called my dad to tell him I would take her on and to inform Max. I had to pay him £1 for her!
She was moved from Totnes to a yard in Torquay and I called a chap I used to work for when I was a teenager, Lawrence Mitchell who had owned Mitchell Marine in Torquay harbour in the 70's. He was now teaching boat surveying at the local Tech and I asked him if he could give her the once over.
When he saw her his eyes popped out of his head and said "do you know what you have got there my boy, This is an Monaco built by Morgan Giles! I served my time with that company and probably knocked a few rivets in this very boat, these are well made boats, you would have been 'someone special' if you owned one of these when they where new."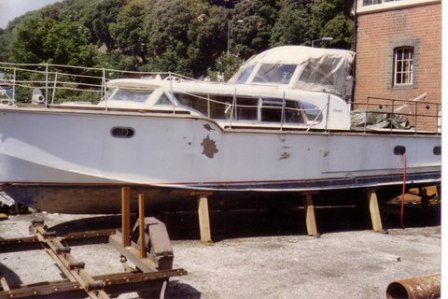 Moved to Torquay at Torre Station
He checked her over and basically said the main structure keel and frames are still like new, but 2/3rds of the hull skin needs replacing plus the deck! this is a single skin of 9mm ply cold moulded onto the frames with copper roves.
He commented that once you have the hull right the rest you can do with as you please. He made it sound easy and convinced me she was worth pursuing, plus I do like a challenge!.
So I started, 1993, I put her under cover with a scaffold frame and tarpaulins and set about stripping her down. I had to remove most of the interior to get at all the rivet heads on the frames. Remove all the mahogany rubbing strakes and capping around the boarder of the deck to allow me to try and remove the ply panels on the hull in one piece as best as possible to use as patterns, which was tricky believe me.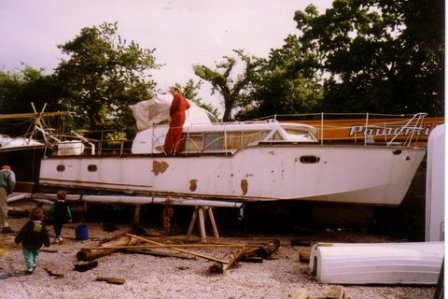 First day at Totnes yard 1993
I removed engines, fuel and water tanks, stern tubes and steering. All the paint was stripped from the hull. New panels where fitted and I epoxy the whole hull, the underside has epoxy resin tiles fitted to stop worm getting into the wood that was in pretty good condition although a couple areas had lifted, they where cut out and re done with epoxy, then the whole underside was sheathed up to the water line. All the port lights where removed along with all the windows on the boat, which I stripped down and and sent them off to be re-chrome plated along with various deck fittings (that wasn't cheap!). I then set about the deck, which had been repaired before and all I can say is a small child could have done a better job. They had laid 8 x 4 sheets crossways over the deck which did not quiet reach the sides so they filled the gaps either ends with what looked like bath sealer then painted.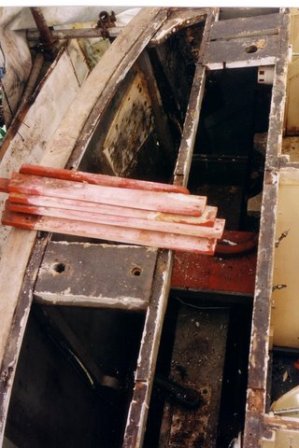 "Louly" with deck removed
No wonder they leaked so badly, the correct way to do it was length ways in 3 pieces, butt joints with backing strips behind the joints, which also ties the frames together (that bit was missing from previous repair, which made the deck a bit springy to say the least). The decks when done were sheathed as well, especially where they met the sides of the hull and the sheathing was run over the sides by about a 1'.

Hull done, deck done, cleaned the bilge's through out, all the paint removed, keel bolts replaced, repainted entire bilge area. The bulk head between the engine room and aft cabin was then replaced.
The engines were Rootes Lister TS3's 2 stroke diesels, both of them had overheated and by all accounts the last time they were used was when Max had lent her to some friends, they took her to sea but forgot to open the engine sea cocks!

I examined them and found one had a cracked liner and the other one was seized solid. I did source 2 brand new units ex MOD still in crates in Glasgow but they needed to be marinized, I nearly bought them. At the eleventh hour I had a call from a boat yard to say somebody had two newish engines for sale, in fact it was a project that they had given up on and they wanted to sell the whole boat but another boat was not what I wanted !. I checked the engines out anyway. They were a pair of 6 cylinder Leyland's 6N125s with PRM gearboxes with 80 hours on them, and were like new the dimensions were also just right.
So I made an offer for just the engines and everything associated with them, shafts, exhaust and electric's. This was accepted and the deal done. I did want to go down the classic route by using the original type engine, but from a practical side I wanted a boat I could use without worrying about the engines and spares all the time. So the Leyland's it was, not the best but good enough.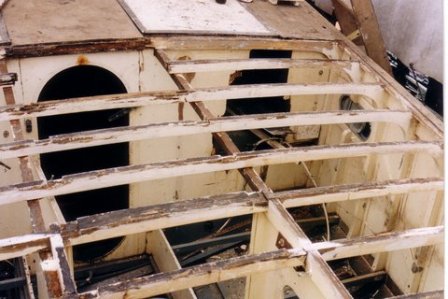 Restoration well underway
New engines, refurbished fuel tanks fitted, shafts and tubes refurbished, rudders refitted and a Whitlock hydraulic steering system, which I thought will be a lot better than the chain and sprockets and gearbox set up, all of which was knackered.
5 years have passed by now it was a case of lots of painting inside, I then replaced the plywood windscreen lots more painting and varnishing and more painting, all the windows were re-fitted. I then employed a marine electrician to re-wire the whole boat arranged a survey and that was it, she passed with flying colours.
Louly was launched in 1999, we had a few teething problems but generally all was good. I only used her for that one season, and due to a career change I couldn't use her so I kept her back at the yard in Torquay for another 8 years! Sometimes I felt like selling her but I resisted because she still was not finished in my eye. I kept doing little jobs to her over the years and the final goal was to lay a teak deck albeit a veneer for show.

"Louly" Torbay 2008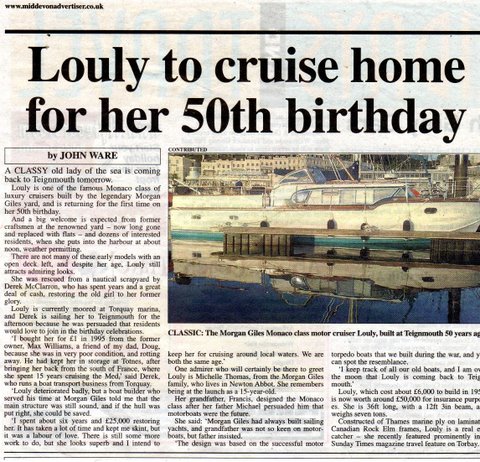 Louly's 50th birthday 2009
I launched her again in 2009, and took her to Teignmouth in August that year to celebrate her 50th birthday, that was a great day we where greeted by the Mayor of Teignmouth, Michelle Thomas the daughter of Morgan Giles and former employees of the yard. It was great to hear there stories and see there faces when they saw the boat. We had a fair bit of local press for that day. I also received some amazing memorabilia from them, especially from Michelle who gave me a photo of Louly when she was launched. Plus the original starting rules for the 1961 and 62 Daily Express Cowes to Torquay Powerboat race in which her father raced. There were also some original brochures for Morgan Giles range, and more old photo's I couldn't thank them enough.

In 2010 I entered in the 50th celebration of the Cowes to Torquay event organised by COPOC to represent Morgan Giles who raced similar models from the first race in 61 to 64.
Louly was used as a Marshall Boat in 1976 for the Cowes to Torquay Powerboat race of which there is a plaque in the cockpit. She carried the number 11 which was MG's racing number. This was a great event meeting lots of new like minded people.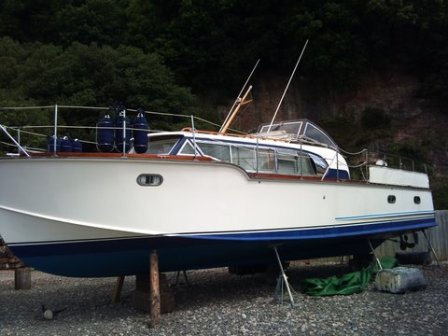 "Louly" finished Mid-July 2010
I have met one of the previous owners, a gentleman called Ken Lane who is now 90 years old and lives in Brixham. He has many fond memories of her and told me he bought her from a flamboyant character who lived in Bristol and used to drive down in a big American car from Bristol in the 60's. Unfortunately was involved in a car accident driving down once and was found to be over the limit. He consequently he lost his licences and sold Louly to him not long after for £5000 in late 60's (These boats incidentally sold for around £13000 in 1959 I think you could buy a house for about £500 back then). She had always been kept on the river Dart by previous owners, except for the period when Max Williams motored down to the Med. Its quite strange that she is still in the same area after all this time.
I recently received an email from Michelle Thomas and she has offered me a small silver trophy which her father had received for winning his class in the 1963 Cowes to Torquay event which is very generous I feel, so the saga of Louly continues.
Derek
POSTSCRIPT
It appears that some of the information given to Derek was not quite right, but the truth is even more amazing…
It now transpires that the "flamboyant" character who owned her did not come from Bristol but London, and was none other than Raymond Bessone otherwise known as Mr TEASY WEASY, hairdresser to the "stars" and a TV Celebrity in his own right… it also turns out he was a big fan of the Cowes Torquay race and good friends with Cpt. Michael Morgan Giles.
It looks like Derek has quite a boat there… one wonders how many "stars" have walked on those decks!
RETRACTION
Derek apologises but he was misinfromed about Louly's ownership and it now appears Mr Teasy Weasy Raymond did not own LOULY.
---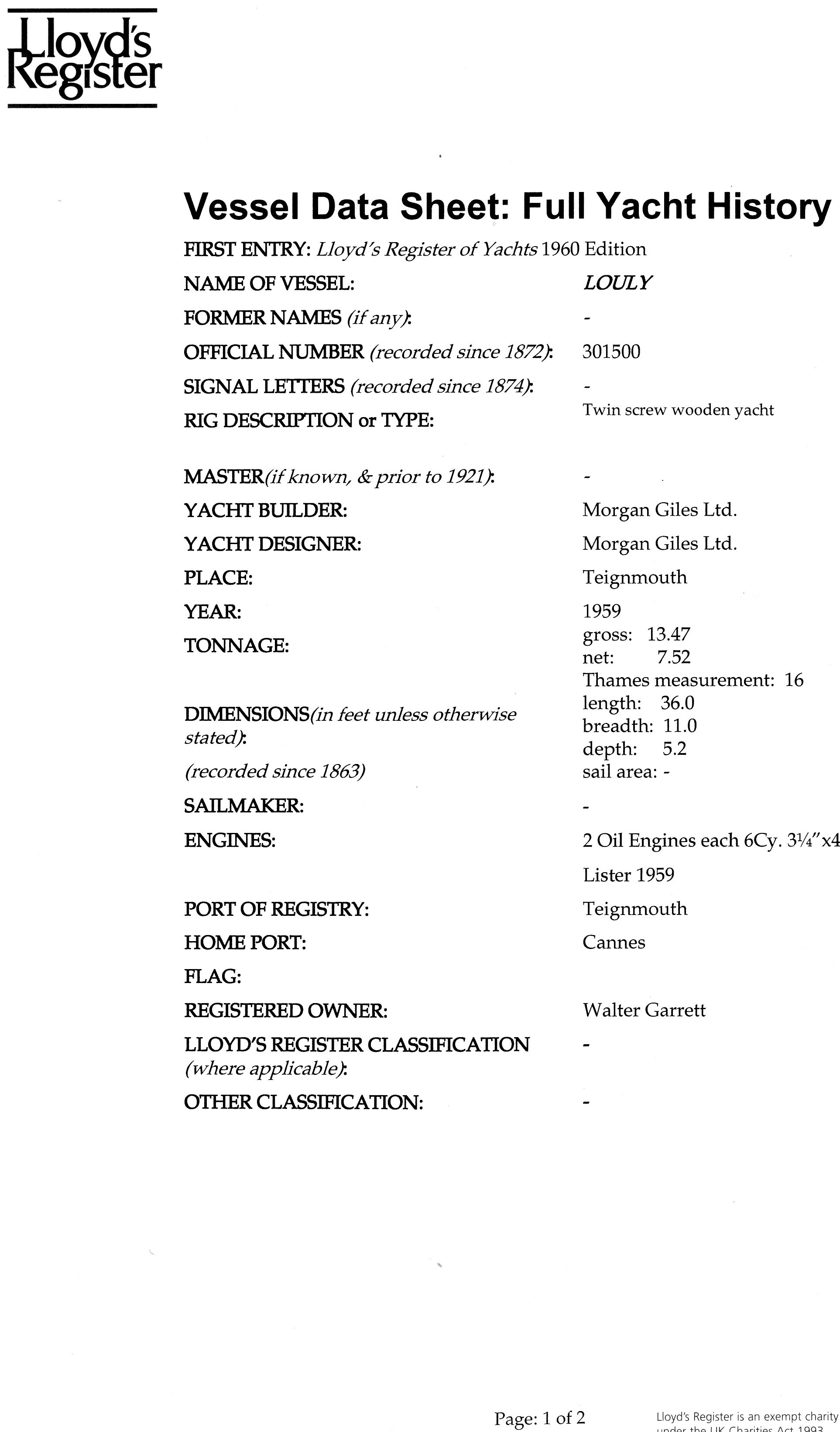 "Louly" Lloyd's Register Vessel Data Sheet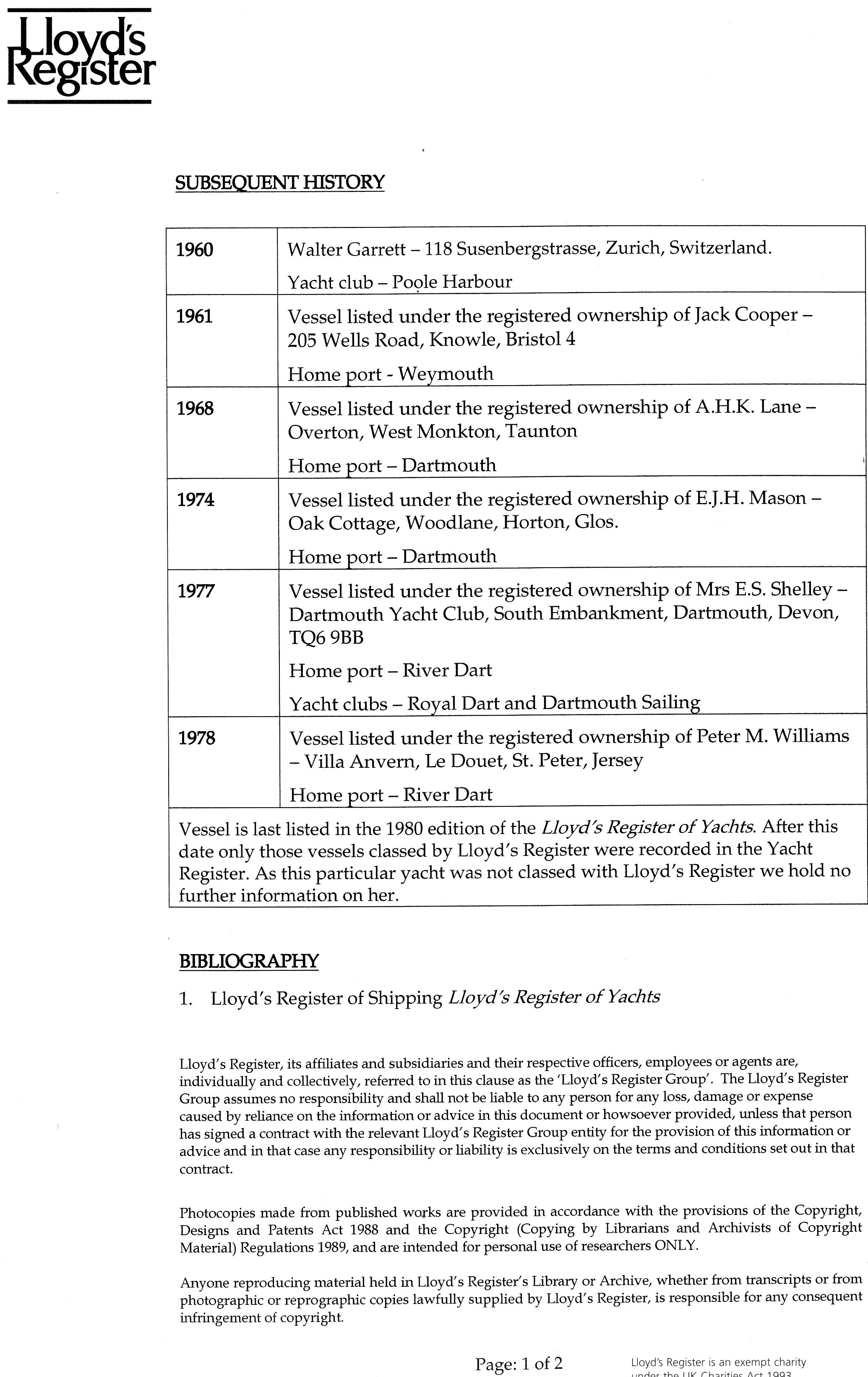 ---
Monaco – "Louly" a selection of restoration pictures