South African Offshore
The waters of the Cape are very much like the waters of the English Channel, sometimes calm, sometimes rough, often very windy and unpredictable! The perfect testing ground for power boat design. In fact in the mid sixties the lure of the Cowes Torquay brought to these shores some very experienced racers….and some highly specialised race boats, from South Africa!.

"METEOR II" 1968
Their first appearance on these shores was in 1968 and if you were in the area of Fairey Marine that August you would have spotted a small Levi like white cruiser on her trailer awaiting her fate in that years race. Known as Meteor 2, 22 foot in length and powered by 2 Mercruisers totalling 450 hp she was to be driven by her owner Ken Stephens.

"METEOR III" 1969

1968 it will be remembered was a very rough race that saw the sinking of White Tornado. Meteor 2 fared better although retired in the early stages. Undeterred Ken Stephens was back the following year bringing with him another entrant Koenie Rontgen and his Mercury outboard powered Lucy which went on to complete the course and finish in 20th position.

"Lucy" 1969
Ken's own boat was a Catamaran designed by South Africa's foremost designer Bob Van Niekerk, the boat Meteor 3 was powered by 2 Holman Moody Fords totalling 900hp and was extremely fast. Misfortune though again befell Stephens when she threw a prop off Southsea whilst in 7th place. He proved her worth later in the Round the Island race and finished 4th, remember that Offshore Cats were still very much experimental in Britain at that particular time and Cougar were still building Circuit cats.
A profile of Bob Van NIERKERK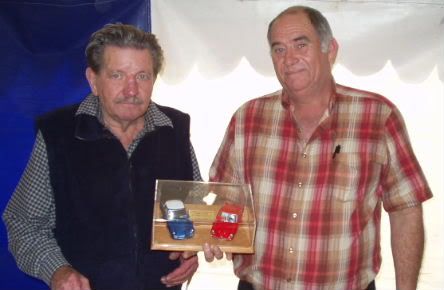 Bob van Niekerk
(shown left in the picture above)


Designer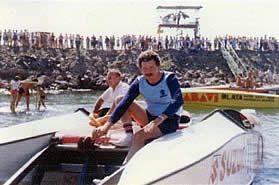 J v R van Niekerk (Bob – shown in the foreground of the picture above) Pr.Eng. BSc.Eng (M). FRINA. MSAIMENA.), known for his GSM (Glass Sport Motor) DART, DELTA & FLAMINGO car designs of the 50's and 60's.
Bob van Niekerk has been designing and racing these offshore catamarans since the late 1960's and has used this demanding sport to test and develop his unique catamaran designs. Offshore powerboat racing has enabled him to continually be innovative and try out risky design features in this real world high speed scenario.

"ON ON" 1970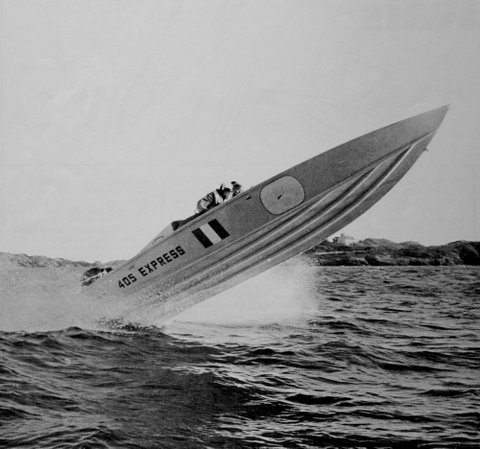 "405 EXPRESS" 1970
Bob van Niekerk was an originator of the asymmetrical catamaran design with the use of steps in the early 70's offshore racing catamarans. He has also been an innovative and influential designer of trimarans and their development. He continues to design trimarans and currently has a 36m aluminium BOBTRI Patrol Boat design.
In the late '50's Bob van Niekerk (Senior Partner, BoatLoft), together with partners Willie Meissner and Verster de Witt developed and manufactured the first South African Sports Cars
• GSM – Glass Sport Motors http://www.boatloft.co.za/gsm.htm
Bob van Niekerk graduated from Stellenbosch University with a Bsc in Mechanical Engineering in 1953. After working for the Deutz agents in Cape Town he joined up with Willie Meissner and Verster de Wit to design and produce the GSM Dart (known in the UK as the Delta) Sports Car – about 300 cars were built in South Africa and UK.

"SAFARI EXPRESS" 1971
His interest switched to high speed boats in 1964. He joined the Consulting firm of Liebenberg and Stander in 1978 to initiate a Maritime Section.
His field of professional experience includes: Design and Construction Supervision of small craft of less than 45m in length and special purpose vessels and vehicles.
He has been involved in all small craft projects for Armscor since 1983 and has designed offshore mining boats for the diamond industry, fishing craft, offshore racing boats and hotel boats have also been built to his designs.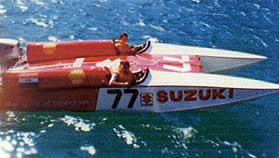 In 1970 African entrants again appeared at Cowes, Gordon Lanaham-Love arrived with the 31 footer "ON ON" powered by two Holman Moody Fords totalling 1000hp and from the Ivory Coast, Mr G.Orid with "405 Express", a 32 ft hull with 3 Mercury outboards hanging off the stern totalling 405 hp, hence her name!
In the race it was the RSA entry that completed the course arriving back in Cowes in 9th place and 7th in class but 405 retired after an initial good showing.
Remember that South Africa was going through many upheavals at this time with Apartheid and trade sanctions sapping the availability of suitable components. Maybe it was inevitable that in 1971 the only entry from the continent was Orio's boat now renamed "Safari Express" with 4 Mercury outboards now totalling 540hp.
71 was of course another of those horrible rough races where even the winning boat Ronny Bonelli's "Lady Nara" won albeit with injured crew and Safari Express was one of the many retirements. Unfortunately the brief association with the South African racers came to an end and we never saw them on our shores again until one Grant Harrison who had worked in SA with Bob van Niekerk and is now well known for his involvement with Thundercats came to the UK.
When you look at the accompanying pictures bear in mind how 10 years previously two great designers were independently working on the Deep V principal. Here history again repeats itself as James Beard and Clive Curtis develop their catamaran ideas, a counterpart on the other side of the world is working his ideas on the same principals and designing some highly successful craft.
One wonders if politics had not hindered the South Africans in their need for equipment and engines, whose cat design would have become the first major offshore winner?
There also follows an interesting article by Tony Needell about the SA offshore scene and a Ray Bulman report featuring Meteor 3.
Armscor Projects

Project Select
Cat – 38 knot Survey Vessels – GRP
Project Latmus
Cat – 44 knot Patrol Boats – Aluminium
Project BK502
Cat – 12 man Assualt Craft – Aluminium
Project Pisces
Cat – 13m Survey Vessels – GRP
Project RHIB
MONO – Self-righting Rigid Inlatable Boat
Project RE
Cat – High Speed Military Ferry
Project Citrus
Launching Trailers for Military purposes
Project Olifant
40 ton Trailer
Project AVA
Cat – 50 knot high speed Pursuit Craft
Project BMI
Facilities for the Military
Project 4 in 1
MONO – 8m Rigid Inflatable Boat for Military Purposes

Special Purpose Projects

Seabed Digger
TRIMARAN – Wreck Robbing
Surfjet
TRIMARAN – National Sea Rescue Institute
Paddler
Cat – Riverboat
Okavango
Cat – Hotelboat
Decadence
Cat – Advertising Boat
Penquin
Cat – Aluminium Ferries 100 pax
Paddle Cruiser
Cat – Knysna paddel wheeler
Isiponono
Cat – Corporate Cruiser
Sea Princess
Cat – Party / Entertainment Boat
Veecraft 888
MONOHULL – Aluminium Whale Watcher
Drakensberg
Rescue Vessel

Offshore Racing Boats

Bobkat 485 Circuit Racing Tunnel hull
Bobkat 701 Offshore Racing Cat
Meteor III Offshore Racing Cat
Meteor IV Offshore Racing Cat
Meteor V Offshore Racing Cat
Suzuki Offshore Racing Cat
Spindrifter Supercat
Spindrifter 'In XS'
Miss Hennessey Offshore Racing Cat
Miss Pickfords Offshore Racing Cat
Team TOTAL Offshore Racing Cat
Daniel Hechter Offshore Racing Cat
Muffett III Offshore Racing Cat
Sea Point Plumbing Offshore Racing Cat
'The Phoenix' Offshore Racing TRIMARAN
Friedman Volvo Offshore Racing Tunnel hull

This particular boat, 'Jokers Sports Club 2' has been highly successful in the 6 litre class competing in the United Arab Emirates over the past few years, and was a design by Bob van Niekerk and Nic de Waal.

Special Fishing Boats and Patrol Boats

17.5m Steel Cat – MFV
5.6m GRP Cat – Small Game Fishing Boat
15m Steel Cat – MFV
10m GRP Cat – South African Police Services
12m GRP Cat – Israel Patrol Boats
22M GRP Cat – South African Navy
13m GRP Cat – UN Patrol Boats

Other Projects

Church Steeple – Riebeeck Kasteel
Underwater Pipeline – Robin Eiland
Low cost Refrigerator
Low cost Commuter vehicle – Hotel Guest carrier
Dolos – Concrete Breakwater Construction Blocks

---


Click to view a PDF of this article

---
Many thanks to Grant Harrison for supplying the pictorial history
and details of Bob's career.
Mike James
Jan 2012