Trident
Designed by Renato Levi. Trident was undoubtedly one of the most significant powerboats of her size and class of her era. Her race career is probably also the longest of almost any powerboat, having been competitively campaigned mainly in the Cowes-Torquay race from 1962 right through to 1975, a race career totalling 13 years. During all this time she remained competitive. She inspired a number of designs of pleasure craft both then and now, traces of her lines can still be seen in contemporary pleasure craft. Her hull formed the basis of a number of powerboats of the sixties and seventies namely the Triana and Omega craft.
Trident was originally built for Don Shead and his father ready for the 1962 Cowes-Torquay race. She was built by Ron and Wally Clark of East Cowes and was the first of a number of wooden Trident boats to be built by them as fast pleasure craft. She was one of Renato Levi's early powerboat designs and her design considerations are explained in hisbook, "Dowhs to Deltas". She was unique for her time in that she was originally fitted with a triple engine installation- very unusual in such a small craft. This also accounted for her name. She was well fancied for the 1962 Cowes Torquay race, which in those days was a punishing 150 odd miles with average duration of approximately 4-5 hours.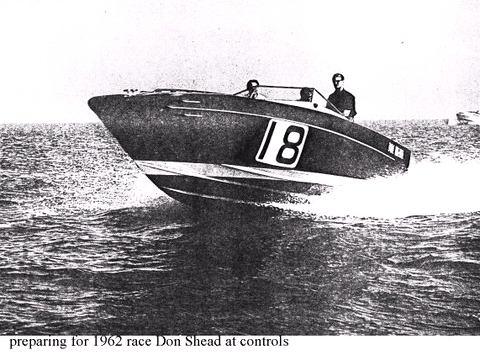 However, during the 1962 race she suffered damage in the first leg of the race around the Isle of White, caused either by hitting something in the water, or excessive flexing of her hull, a design fault which Renato Levi himself thinks may have caused the damage. After the 1962 race the hull was strengthened and after various tests it was decided that one of the engine installations be removed, so for the rest of her career the boat ran with a twin-engine installation. It is interesting to note that despite the removal of one engine, the performance of the vessel dropped only marginally. Due probably to most of the 110 horsepower of the engine being absorbed by the engine's weight, appendage drag of the additional out leg and the overall weight of the engine installation causing the vessel to be trimmed excessively by the stern.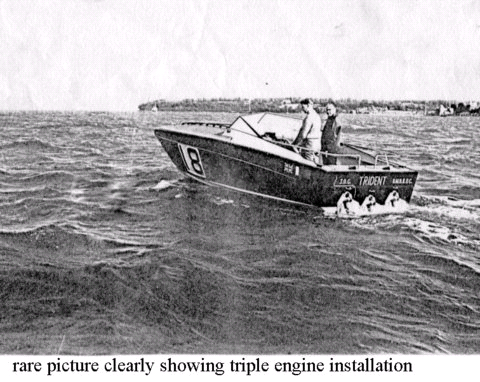 The 1963 Cowes race was probably her most successful and interesting race. Contemporary writers thought she had an extremely good chance of winning despite the fact she was up against significant competition from boats at least twice her length and with five times her horsepower. She did extremely well in the race as can be read in some of the contemporary press coverage, despite a collision with Emile Savundras' "Jackie S" which had spent most of the race careering violently out of control. Had it not been for Don Shead's quick thinking and excellent driving skills the collision could have proven to be the end of Trident's race. The extremely rough weather conditions in Lyme Bay gave the bigger, heavier craft the advantage. However, Don Shead and his father drove extremely well against some of the larger competition, managing to finish seventh, giving Trident a win in her class, £200 prize money, and the Cowes town cup. Don Shead parted company with Trident after the 1963 season. The boat was acquired by Don Robertson, who entered the boat in the 1964 race, again in 1964 the boat came in a very presentable ninth, again winning its class and the Cowes Town Cup.
Don Robertson continued to campaign the vessel in the Cowes Torquay cup for the next four years and always, except in 1965 when he did not finish, came in a presentable position as seen in the list of finishing places below. This was an exceptionally good performance bearing in mind that the vessel was six or seven years old and competing in a sport where evolution of design was leaping ahead year by year. Trident would have probably continued to win her class based on her record of finishing and her performance. However in 1966 the class specifications changed and the specifications for production boats meant Trident was no longer eligible in that class. This meant Trident would have to run in class two in which she gradually became uncompetitive.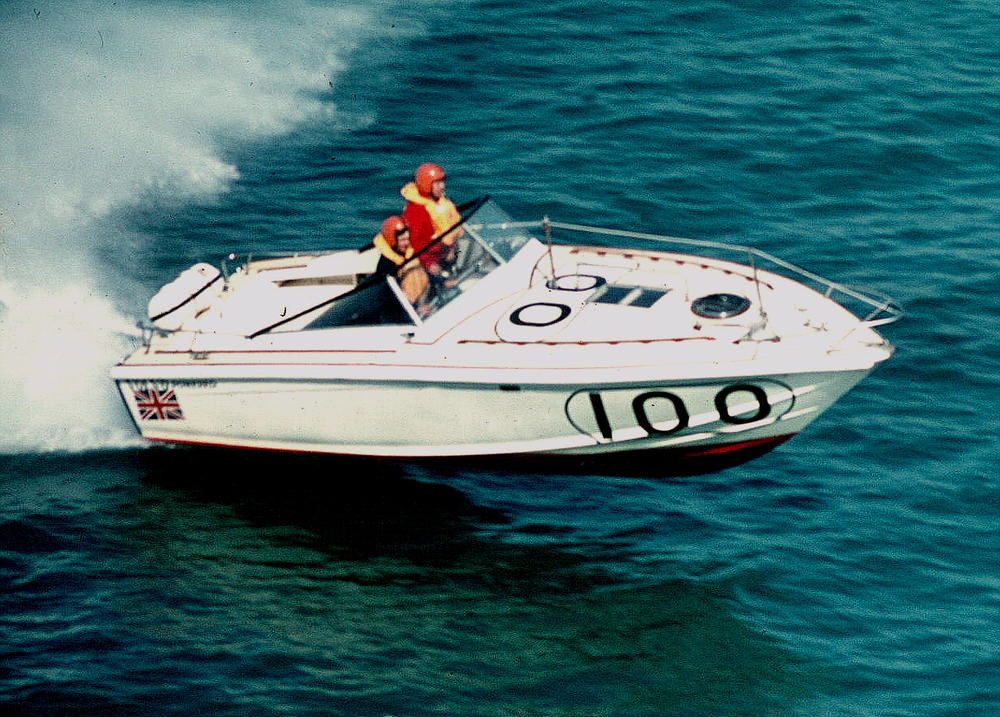 VIVA TRIDANTE
Robertson eventually parted with Trident after the 1968 race. It is worth noting that from 1963 to 1971 other Trident's, "Jupiter of the Isles" and "Viva Tridante" were entered by J. Taylor and Derek Smith respectively their results can be seen in the table below. Trident changed hands a few times in the next three years and was eventually bought by Roger Kelly. He sent her to Toll Craft where Ian Toll made a number of substantial changes so she would comply with the current class 2C rules and be competitive. To achieve this a new higher cabin top was fitted and cockpit side altered to match the cabin top.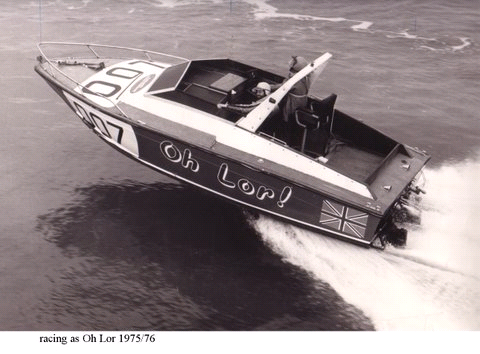 When completed Trident looked a much more up to date boat and still quite elegant although her original builder, Mr Clarke felt she was rather ugly when compared to her original turtle top cabin configuration. In addition to the cabin alterations her two original Volvo engines were changed for a pair of substantially modified 165 Mercruiser engines running Cosworth high compression heads, Moor-race cams, high performance pushrods, cam followers, double valve springs, and full flow oil coolers. Total output estimated at 250 hp per engine. This was the configuration when Trident was entered for the 1975 race running in class IIC. However the engines proved to be unreliable and both in 1975 and 1976 Trident failed to finish with Roger Kelly and Geoff Hunton at the controls. Adrian Mott acquired Trident in 1978 by this time she was in a sorry state having been left standing for two or three years in the same state as when she retired from her last race. She had one blown engine and one seized. After careful inspection of the hull was found to be in sound condition although suffering badly from neglect a result of a punishing racing life with little maintenance, The inspection revealed that a number of fastenings had worked loose causing bulkheads to fracture in turn allowing the hull to flex to much and pull rivets. The original cleverly designed sprung cockpit decks were collapsing under the weight of two 100 gallon, fuel tanks fitted on the beams by Tollcraft. We decided to strip the entire boat, all damaged panels were removed Fastenings and rivets were tightened and repairs to damaged areas were carried out with modern epoxy resins. To ensure the hull was watertight it was decided to sheath the hull to the waterline in epoxy. There was evidence of this having been done in polyester resin in the past during Roger Kelley's ownership although the hull had not been allowed to dry out sufficiently and had therefore come away. This time the hull was allowed to dry out properly was sanded back to bare wood then sheathed in epoxy resin and woven cloth up to the waterline.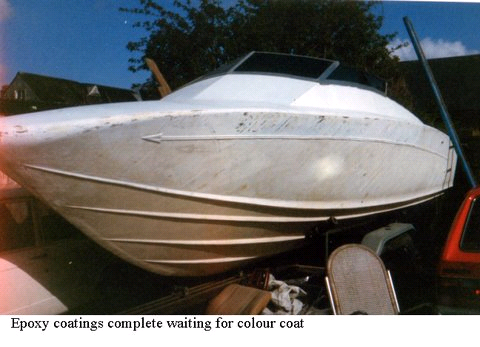 This restoration work was carried out over a number of years with quite long breaks due to either lack of time or funds. At one point during this period the boat narrowly escaped destruction when the storage shed was burnt to the ground. The engines and outdrives were rebuilt by Mike Bellamy but were unfortunately they were stolen during while in storage. With most of the restoration work on the hull was completed Trident is probably in a sounder and more seaworthy condition than during her latter racing life. With most of the work completed Trident now only requires a pair of engines and out drives to make her fully functional.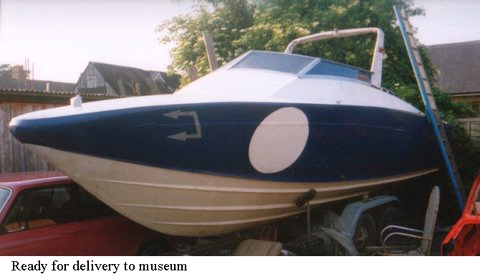 Trident race results
Trident and other Trident boats
1963 – 8th – Race No 2
D.K.Shead – Entered as production boat class3 (based on sale price) – Cowes Town Cup 1st prod Class 3
Jupiter of the Isles
1963 – 17th – Race No. 67
J.Taylor & J.Macpherson – 3rd Production Class3
1964 – 9th – Race No. 3
D.Robertson & J.Robertson – Cowes Town Cup 1st Prod Class 3
1965 – DNF – Race No. 103
D.Robertson
1966 – 7th – Race No. 103
D.Robertson
1967 – 12th – Race No. 103
J. Robertson
Viva Tridante Race No. 100
Derek Smith
1968 – 14th Race No. 103
1968 -DNF – Race No. 100
1969 – No Entry
1969 – 19th – Race No. 100
1970 – No Entry
1970 – DNF – Race No. 100
1971 – No Entry
1971 – Race No. 100
1975 – DNF – Race No. 007 (Oh Lor)
1976 – DNF – Race No. 007 (Oh Lor)
Other Trident boats that raced were;
"Posiden" Race No. 34 T.Threlfall
"Mister Smith II" P.Mckiernan
All Trident boats were built by Ron and Wally Clark Ltd of COWES I.O.W.