X-1 "Zeffiro"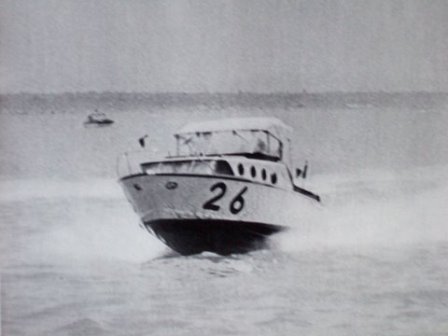 The X-1's were a series of cabin cruisers with a Ray Hunt type deep V hull measuring 7.80 mt x 3,10 beam. They were built in plywood by Italcraft near lake of Bracciano north of Rome in the early sixties and great rivals of the Canav boats of Petroni and Levi with their Speranziella series of designs.
In the first Viareggio-Bastia/Bastia-Viareggio Powerboat Race of 1962 the X-1 participated with two boats: one was called "Amicizia" for Mario Sonnino Sorisio and was powered with a pair of Chrysler of 172hp each, the other was "Bonifacio II" of Mario Arnaldo and Sergio Sonnino Sorisio (owner of Italcraft).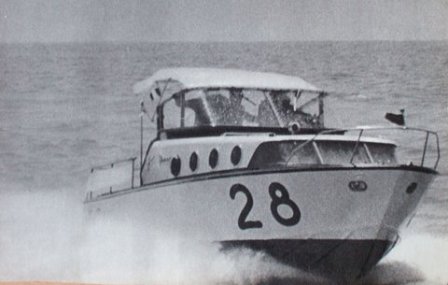 The five X-1 participated in the second edition of 1963 and one, the "X-1B" won the race by the sum of time of two legs from and back to Bastia the day after.
The five boats were:
"X-1B" – Sergio Sonnino-Sorisio – 2 Chrysler x 300hp each.
"X-1D" – Mario Sonnino-Sorisio – 2 General Motors diesel x 181 hp each – winner of the diesel class- 4th overall.
"Antonella III" – Francesco Cosentino – Luigi Durand De La Penne – 2 x Chrysler 300 hp each – 8th overall.
"La Turca III" – Giacomo Fornari – Antonio Dal Monte – 2 x Chrysler 300 hp each- 7th overall.
"Virgina" – Rodolfo Funaro-Riccardi – 2 x Chrysler 300 hp each – 9th overall.
Many thanks to Marco (Black Tornado) for this information.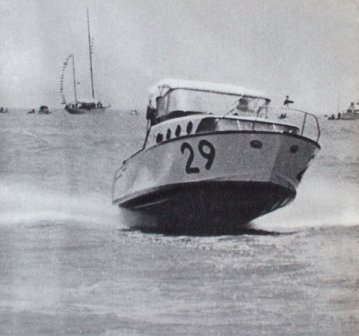 Guido Enderle from Germany a big fan of our Website has bought what may be one of the few remaining X1's, will be restoring the boat and hopes one day to bring her to GB.
Restoration of X-1 "Zeffiro"