R.W CLARKE Force Eight's – "Sandpiper 2 of Itchenor"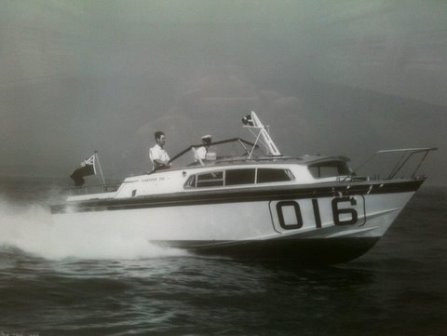 "Sandpiper 2 of Itchenor"
In 1961 when entries started flowing in for the first Daily Express Cowes Torquay race besides the multiple entries from Fairey Marine and Bruce Campbell another major boat builder was well represented with no less than 5 of its Cowes built cruisers. These were the Clarke Bros "Force Eight" Colin Mudie designed cruisers.
When the final entry list appeared only 2 boats were confirmed for the race including one for a Mr Donovan Shead. In the event neither finished but Clarke brothers Bob and Wally were well represented in the following races by "Smoked Salmon", Sir Robert Hoberts 36ft Hurricane class cruiser, the Levi designed Tridents and then the Moreland Class cruisers "Ja Conga" and "Michelle S".
The 25ft Force Eights were eventually replaced by a 28ft version of the then new Moreland Class and for 4 years Edward Lacy-Hulbert raced one "Sandpiper 2 of Itchenor".
For many years Sandpiper has been stored in a barn in Southern Ireland until purchased 3 years ago by Peter Wilson, who is now almost ready to launch the restored craft in spring this year.
Peter has been asked to send more pictures of works undertaken but here are a few pictures of what is another rarity from the 1960's.
Mike
8/3/11
Sandpiper 2 of Itchenor
LOA 28FT
2 Parsons/Cummins Diesels
Total 447hp
Raced 1966/7/8/9
66 she retired almost immediately after start
67 retired again
68 finished 3rd in CLASS 2 and 16th overall
69 finished 6th in Class 2 Cabin Cruiser and 29th overall
A selection of restoration pictures