HTS II
Brief history of HTS II
HTS II was one of two famous offshore racing powerboats which were commissioned by an equally
famous powerboat racer of the time, Ralph Hilton. The two boats were known as HTS and HTS II and are both
Class 11 offshore racing powerboats.
HTS was built around 1970 and was longer, wider and heavier than HTS II. It was a famous boat in its day
and now resides in The National Motorboat Museum, Pitsea as APACHE the winner of the Class 2
Championships driven by Davd Hagan. One of its many successes was winning the 1972 London to Monte
Cario Race.
It still features in many historic articles and was used by Ford and Sabre to advertise their racing
marine diesel engines for many years.
HTS II was built around 1972 from a racing hull design by Mike Bellamy and was built by Souters of Cowes.
It was designed for Ralph Hilton to be lighter and faster than its sister boat HTS.
In particular, it was designed to be fast in rough weather when racing and its objective was to obtain the
World Speed Record for a diesel powered boat.
HTS II is 30 feet long, less than 7 feet wide and weighs approximately 2 tons. It is constructed from cold
moulded marine ply. This method of construction, which is still used by race boats today, was developed for
fast patrol boats in World War 11.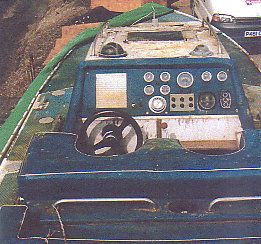 In her day HTS II was considered revolutionary in many of her design features. In 1973 HTS II obtained
the World Speed Record at Lake Windermere of 73 mph for a diesel powered boat. At that time HTS II
was fitted with 2 Ford Sabre 6 cylinder 250HP diesel engines and outdrive legs.
HTS II also had many offshore racing successes over the years and was driven by many of the famous names
in powerboat racing. Her last race was in 1981 when she is reported to have won. By that time the 2 diesel
engines had been replaced with a single American Mercury full race 454 cu in 550HP petrol engine and
racing outdrive, and was capable of speeds in excess of 80MPH.
I purchased HTS II in 1984 as a complete boat, Mercury engine, outdrive and trailer. It was my
intention to refit HTS II and return to Offshore Powerboat Racing. However, lack of time, money, and a
family prevented me from both refitting HTS II and returning to powerboat racing.
To bring this short history up to date, HTS II has spent the entire time since 1984 sitting on her
trailer, part of the time undercover and part of the time outdoors. I was obliged to store HTS II outdoors on
a farm for the past 5 years and could not get access, during which time both HTS II and the trailer
declined due to weather and a careless farmer!
Present state of the project.
As you will see from the photographs, HTS II is sitting on her trailer. She has remained on her
trailer since the last time she left the water in 1984.
Everything was in working order in 1984 but has not been removed or used since. HTS II comprises a cold moulded
marine ply hull and marine ply superstructure. It is fitted with flexible polymer fuel tanks located
in the sides of the hull with galvanised pipe fuel lines and filters. It has four racing standup
positions, one for driver, navigator, trim operator and a spare. It uses 12 volt batteries for
starting, running, bilge pumps and hydraulics. It also has power steering and 2 hydraulic trim tabs.
HTS II is fitted with one Mercury racing 454cu in/7.4 litre (Chevy big block based) engine with Thunderbolt
electronic ignition, twin Gill water cooled racing headers (exhausts) and one single Holley 4 barrel
carburettor. The engine also comprises a Hank the Crank steel forged racing crankshaft, Carillo
rods, forged steel pistons, Crane high lift camshaft and gasflowed cylinder heads.
Its last rebuild was by Weslakes about 1980 and was dyno'd at 550HP at the shaft. ( The engine was
originally fitted with Kinsler fuel injection and was set up to run on Avgas and was reckoned to give
650+HP). The engine has not run or been touched since 1984.
The outdrive leg on HTS II is a matching Mercury(Mercruiser) Mk 3 racing top with a commercial bottom
end (fitted as a temporary measure by the previous owner) and an aluminium propeller. The commercial
leg limits the speed to about 60mph when cavitation occurs. The aluminium propeller is completely
wrong and virtually useless.
The racing rig is complete with a very good 4 wheel braked road trailer.
Restoration work required.
1. HULL & SUPERSTRUCTURE The hull requires a survey by either a marine surveyor or specialist
boatyard for soundness. There is a small area of damage to the hull and a previous repair needs inspecting.
The deck has some rot and probably needs replacing. The superstructure also has bad rot and requires replacing.
2. ENGINE The engine requires removing from the boat, completely stripping and rebuilding. It will require new
hoses, alternator and starter motor.
3. OUTDRIVE LEG The outdrive leg should be ok. it could be run with the existing outdrive leg with the addition
of a better stainless steel propeller. However, to restore it correctly it requires a new set of drive gears
for the top half (gearbox end) and a replacement (second hand rebuilt unit) Speedmaster Ill racing lower
leg. If a Speedmaster Ill racing lower leg is fitted it should really have, to achieve maximum speed, a
hand made stainless steel racing propeller but it might be possible to use a more economical
off–the–shelf stainless steel performance propeller.
4. FUEL TANKS & PIPES The flexible fuel tanks will have to be removed and inspected. All of the
galvanised fuel pipes and stop cocks will have to be removed and replaced. The fuel filters will have
to removed and cleaned.
5. POWER STEERING & TRIM TABS The power steering will need checking for leaks and correct
operation. The twin hydraulic trim tabs will need to be dismantled and may require new oil seals and oil.
6. ELECTRICS If the superstructure is replaced it will be necessary to remove the
12volt wiring system to the cockpit dials, switches, navigation lights, etc.
7. TRAILER The trailer is very good on the road but was not built for HTS it. The
trailer requires lengthening so that the boat sits further back over the twin axles. It also needs the hubs
and brakes overhauling and finally, stripping and painting.