DELTA 23 "Cristina"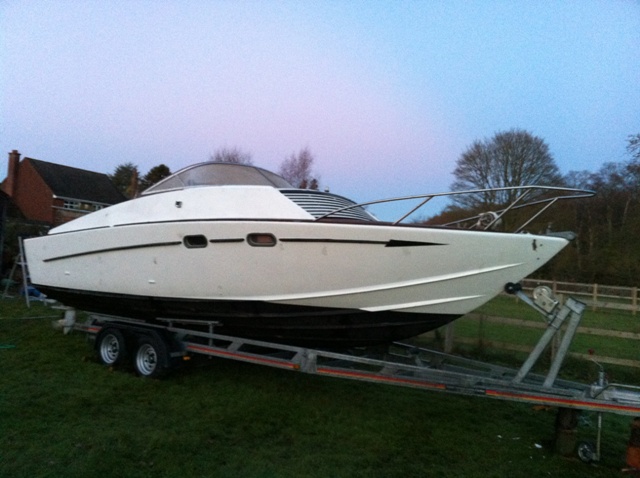 There are boats and then there are boats! Mike went to the Southampton Boatshow in 2010 to view the current cabin style ribs in particular the Zodiac hoping that in a few years time after depreciation he might be looking to buy a good 2nd hand example…..in Mikes own words this is what happened next.
"I found many of the boats completely souless, including the Zodiac… then I saw the Levi Corsair in all its glory with its massive price tag! So I researched Levi, managed to buy both of his books (expensive, but still available in English from Italy) found the web site 'Altomareblu', and chatted to James. He mentioned the Delta 24 (as he called it back then) and I flew to Italy to view the boat, James collected me from the airport and I went to view the boat. I decided on that trip that the boat was needing too much work and maybe not as good condition as I wanted… I kept looking and also liked a Levi Parteno craft synthesis, a lovely boat and good value, but this sold before I could view. In the end I decided it would be nice to own a boat that I could tow and would make an interesting project. Money changed hands and two weeks before Christmas I decided to go to Italy to collect the boat. I needed a trailer quickly, ordered one on the Monday picked it up on the Thursday and drove to Italy on the Friday! Arrived in Latina Sunday evening, loaded the boat by lunchtime Monday and caught the ferry back to the UK on Wednesday morning, 2600 miles in total, an interesting drive!
The boat is currently in my garden and I need another frost to be able to bring it back to the front of the house as I have decided that I need to sub out some of the work in order for the project to be completed"!
Mike Collins
Refurbishment of Delta 23 "Cristina"