One of the aims of the Classic Offshore Powerboat Club is to track down many of the original race boats but such a task is often nigh on impossible when you consider the fate that befalls many of the older craft. Especially if they were purpose built for races such as the Cowes Torquay. This fact was never more proven when an email arrived the other day asking for information about a Bertram 31..the email read thus…
Please excuse the unsolicited email.
I am trying to gather information about the 1969 Round Britain Power Boat Race and in particular a Bertram 31 "Thunderstreak 955". Built in Whitby by the Bertram Yacht Company specifically to take part in the race, I currently have little further information other than the names of the crew.
If the COPOC have any information or pictures in their archives regarding the race and / or Thunderstreak, would it be possible for me to have access it?
Yours sincerely,
David Haynes
Then if it was not for the knowledge within the club and such a recognisable name the fun would begin..then when you see the pictures supplied it becomes heartbreaking to see what people have done to the craft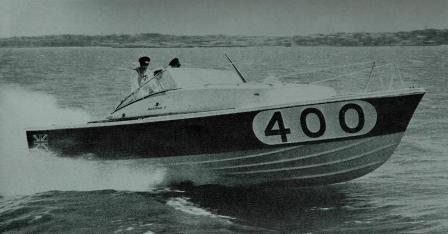 THUNDERSTREAK 1964
After the 1963 race where she was a leading boat in contention with WHITE MIGRANT before retiring herself with a broken gearbox. Tommy Sopwith raced her in 64, she was then sold to Keith Schellenberg Who raced her in 65/66/67 she then reappeared as an entrant in the RBR 1969 in the hands of Robert Doxford as in David's second email.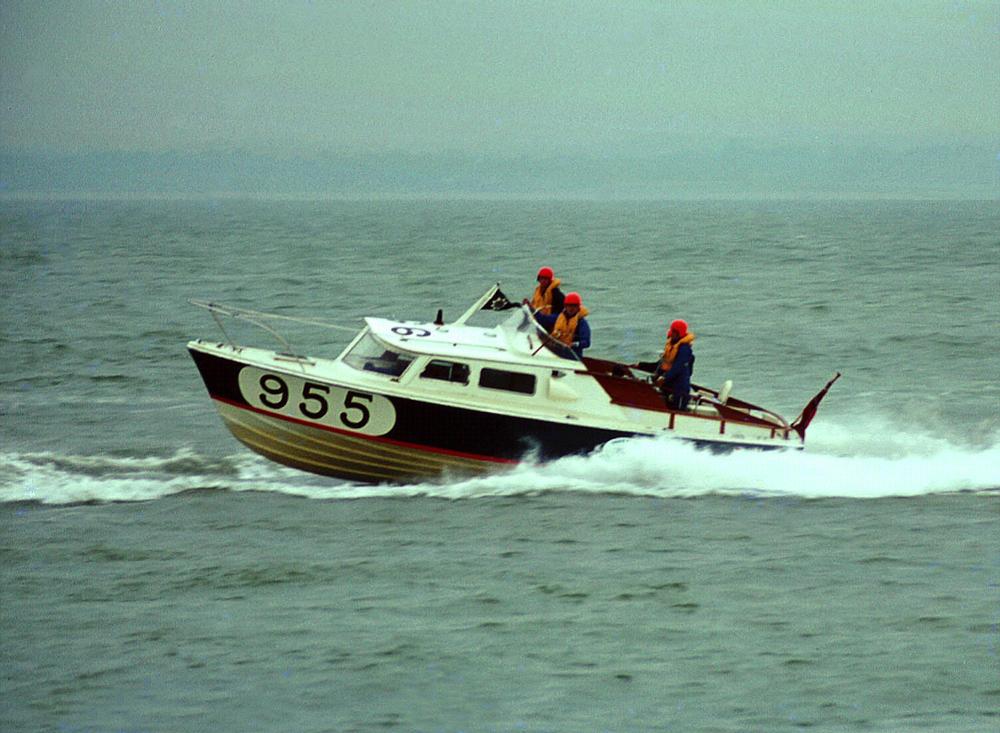 THUNDERSTREAK RBR 1969
Mike,
Thanks for the information. The old girl is in London in a very sad state at the moment. I now also have pictures of her as she is and as she was about twenty years ago. Further (conflicting) information is that she was built by the Bertram Yacht company in Whitby North Yorks and had the number 955. Crewed by Robert Doxford and had two Perkins 6354's. Presently trying to lay my hands on the race brochure which may help.
Regards
David
THUNDERSTREAK 20 YEARS AGO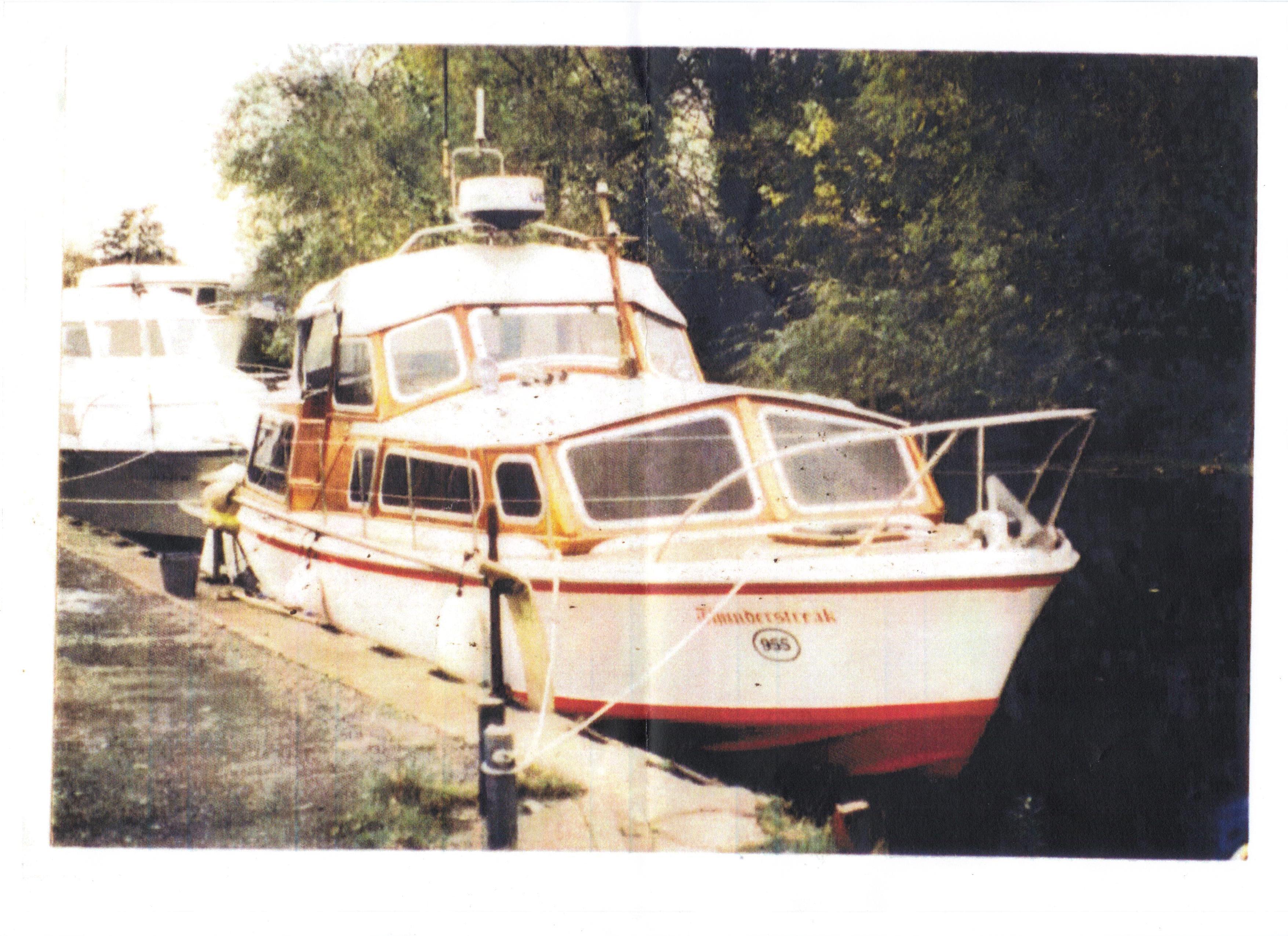 The above picture was taken some 20 years ago and looks to be a river mooring somewhere then comes the heartbreak when the last picture arrives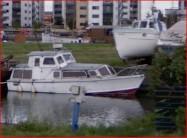 Sorry about the quality, THUNDERSTREAK 2000 and ?
The old girl is now for sale through Boatshed London and the asking price is £9995.00
As much as I would dearly love to save her and return her to original, THUNDERBOLT has broken me and I do not think I could face that much work. If there is anyone out there who would like to tackle such a project please let us know asap so we can save another race boat from self destruct but there again if I won the lottery….
The sad part is that we fail to recognise our maritime history unlike the Americans who a fanatical about saving their race history. Witness what happened to one famous American boat found here.
The first boat with Don Aronow connections Bill Wishnicks Claudia 2 which then became Broad Jumper and when found was known as PATSEA!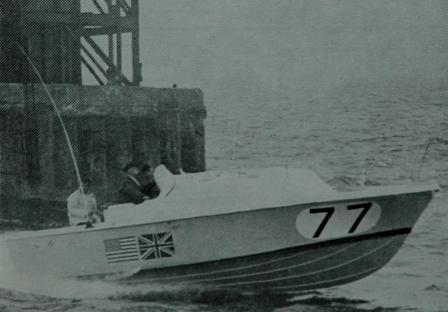 Claudia 2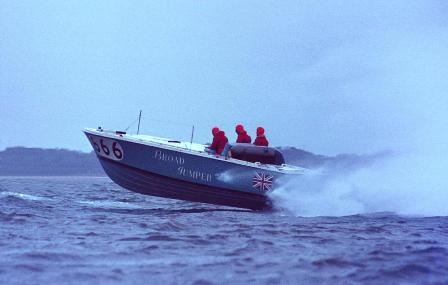 Broad Jumper
Discovered and then shipped back to America to be restored was this rather bland looking cabin cruiser proving that you have to look beyond the monstrosities that appear atop some very famous hulls.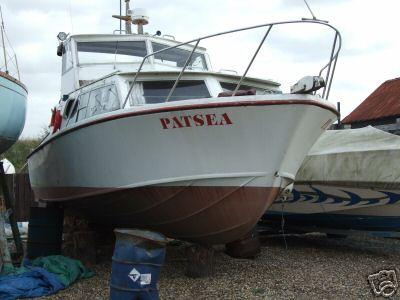 Claudia 2 aka Broad Jumper aka Twelve Bore Then PATSEA? …now back in her homeland.
Mike James