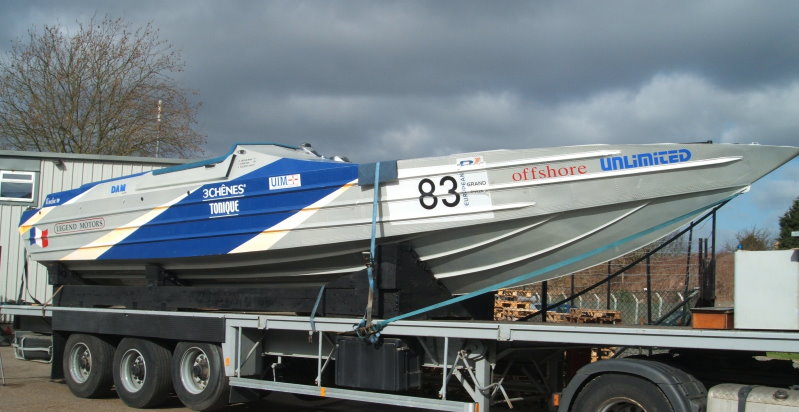 As competitors on the British class 3 offshore scene for many years in the
80's, the team comprising Tim, Nick and Eric thought that there was time for one more big adventure, the RB08 is that adventure. With the purchase of this multiple race winning CUV hull they will be on the start line at Portsmouth on June the 21st and raring to go.
Nik was able to track down no 558, one of the most successful offshore
racers of the time, in France and now back in the UK the craft is undergoing a full renovation and race preparation under the guiding hand of team navigator Eric Smillie.
Eric is utilising his 30 years marine mechanic experience to prepare the boat for the trials ahead, based on his participation in the 2 previous Round Britain events in 1978 and '82.
As to the power units for what may rank as one of the top five contenders,
instead of the Mercruisers and Lamborghini's that powered the hull in the 80's read ILMOR, the successful marine branch of the renowned FI and motor sports engine specialist founded by Mario Illien, Paul Morgan and Roger Penske in 1984.

Specifications
Hull: 38ft CUV, built in Italy
Construction: Aluminium
Designer: Don Shead

Engines: 2 Ilmor MV10 635 total 1,290hp
Colour: Red White and Blue
Race No: 558

The Team
Driver: Tim Grimshaw
Co Driver: Nik Keyser
Navigator: Eric millie
Team 558 will be racing under the Burgee of the Classic offshore Powerboat
Owners Racing Club whose colours appropriately tie in with the distinctive livery of 558.