When I was taken as a seven year old to Silverstone for the British Grand Prix we stood beside a Vanwall as it was fired up, never in my life had I experienced such a spine chilling sound that lives with me to this day. Then as an eleven year old, I was witness to the finish of the first Cowes Torquay Powerboat race fell in love with another spectacular sport and now own the winner of that first race.
From that year onward our family holiday became a pilgrimage to Torbay so we could watch "the Race" and my schoolboy doodling's in class were of Christina's then of Tramontana.
However in 1963 at the end of Brixham harbour breakwater I fell in love with everything Italian as A'Speranziella roared by in a blaze of red with her V8'S howling and my new hero at the wheel Renato "Sonny "Levi.
Hero worship is easy for teenagers but as you grow up and are like me slightly reserved, to see your idols pass by finds you wishing you had that bravado you had when you were younger to go up to and ask for that autograph.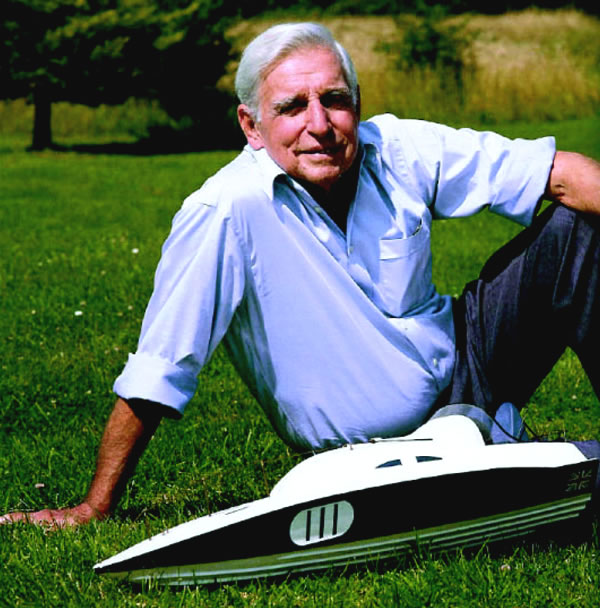 Renato "Sonny "Levi
So when as a guest of Chris Clayton I attended a BPRC lunch at the Prospect it was to be in seventh heaven especially when you are seated opposite Ann Levi who chatted away about the early years in Italy as Sonny set up their business Cantiere Navaltechnica. It also transpired that the now 82 year old Sonny spent winter in Thailand and Ann was to join him mid December and where was I going after Christmas……
Taking the bull by the horns I invited Ann and Sonny to lunch at the hotel I was staying at in Phuket and it was accepted!
December the 30th will join my list of perfect days for precisely on the dot at 1pm they arrived and there I was, confronted by a childhood hero, no escape now!
Seriously though what an honour and privilege, I am in conversation with one of the most interesting and highly respected designers from the latter half of the 20th century.
Naturally the talk revolved around the early years of the Cowes Torquay. Firstly his battle with Tommy Sopwith in '61 and how Thunderbolt's restoration was progressing, we then moved on to A'Speranziella now being restored again by Sebastion Stapleton with me offering to take Sonny up to see her. I have yet to let Sebastion know of his impending "royal visit". Of how many of his early designs are used by fishermen and the most famous fishing boat of all of all Ultima Dea, it seems they are considered the safest sea going craft to use.
Then the conversation somehow turned to Dr Emil Savundra, how Sonny was invited aboard Jackie S to see, in the Doctors words "a real powerboat". Of course we all know the story of how she sank a spectator boat, rammed the Needles then crashed over the bows of Don Shead's Trident. What was the fault with her I ventured, Sonny responded immediately 4 engines 4 props and all handed the same way no wonder she had steering problems!
I broached the question, had the Doctor ever approached you for a design and apparently he had, not one but two boats, one large one small but they would of course be built by the best, by Vospers, the Doctor dictated! The commission never came to fruition so it seems or did it?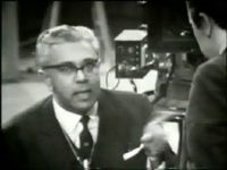 Dr Emil Savundra
Now this was the time of the collapse of the Fire Marine and Auto insurance company that had funded Savundra's toys and one boat did emerge from Vospers. The year 1966, the boat Flying Fish which to all intents and purposes was designed and built by Vospers and carries the name Peter Du Cann in all the entry lists. I think we can now safely tell the tale, Peter was a close friend of Sonny and they, ie; Vospers commissioned and paid for the design from Sonny. Although his name was never noted anywhere just study the hull lines, it can only have come from one hand, that of RL.
The Fish was purchased by Albert Figgins and sank of Portland Bill after leading, again I asked for a comment on the cause.
Sonny noted, that with even with design input from Mitsubishi and Vosper's top German marine engineer the one thing that came to his immediate attention was the lack of support for her inch and a quarter shafts. Pointing to the design lines of A'Speranziella in his book Dhows To Delta's, he showed how the shafts were carefully bracketed and supported. He believes on Flying Fish they did not have sufficient support this allowed them to whip under the high horsepower of the twin Daytona's with the subsequent result, as one or maybe both sheared and ripped through the hull.
Almost an identical problem to the other Albert Figgins boat that unfortunately went up in flames, THUNDERFISH 3!
If he had one major gripe it was about so called "designers" for whom he had produced fast, efficient, lightweight hull designs only for them to fit superstructures that were overweight, ill fitting and totally unsuitable for the elements.
Also he regaled us with anecdotes, like the time he spent aboard client's motor yachts where there was no space on tables due to the ornamentation and he had to produce sketches and design ideas on the floor as the owners took pictures of him "at work".
The most amusing tale being the '63 prize giving when Sir Max Aitken presented the Beaverbrook trophy, introducing him as the Italian Renato Levi…..Sonny proceeded to give his thanks to all concerned in impeccable English much to the amazement of everyone present including Sir Max, who commented as Sonny left the stage "there goes the Italian"!!!!
Sonny of course went to school in England and France, served in the Royal Air Force and studied Aeronautics in the UK but even I was not prepared for his absolutely impeccable English diction with not a hint of Italian anywhere!!!.
Now you are asking how did you have a copy of his book there? You do not think I am going to make the same mistake twice do you! I may have been reserved in the past but now I was having lunch with Sonny Levi, my copy of Dhows to Delta's first edition, which cost me £5 many, many years ago went with me to Thailand in order to get that autograph, the autograph of a childhood hero.
Mike James Commodore